Admin module
With the Admin module you can set the permissions of your users for the respective modules and can add new users or change existing user accounts.

The most important configuration settings for your EGroupware application can be found in this module. This also includes the adaptation of the layout (colours, logo, etc.) to the CI of your organisation.
Our tutorials and webinars help you to set the most important parameters.
In addition to the admin module, there are further possibilities to make different settings on the software.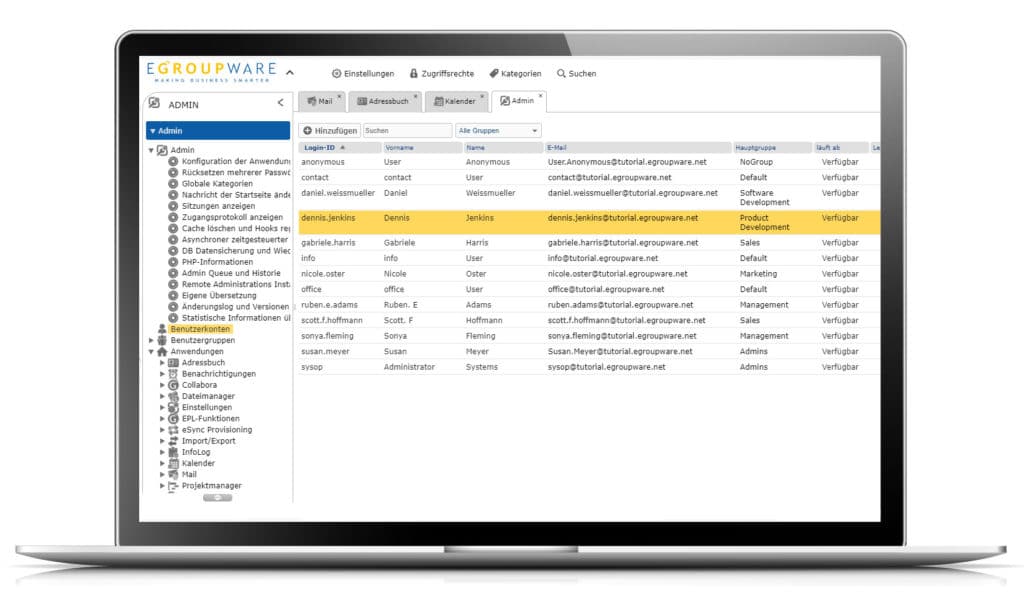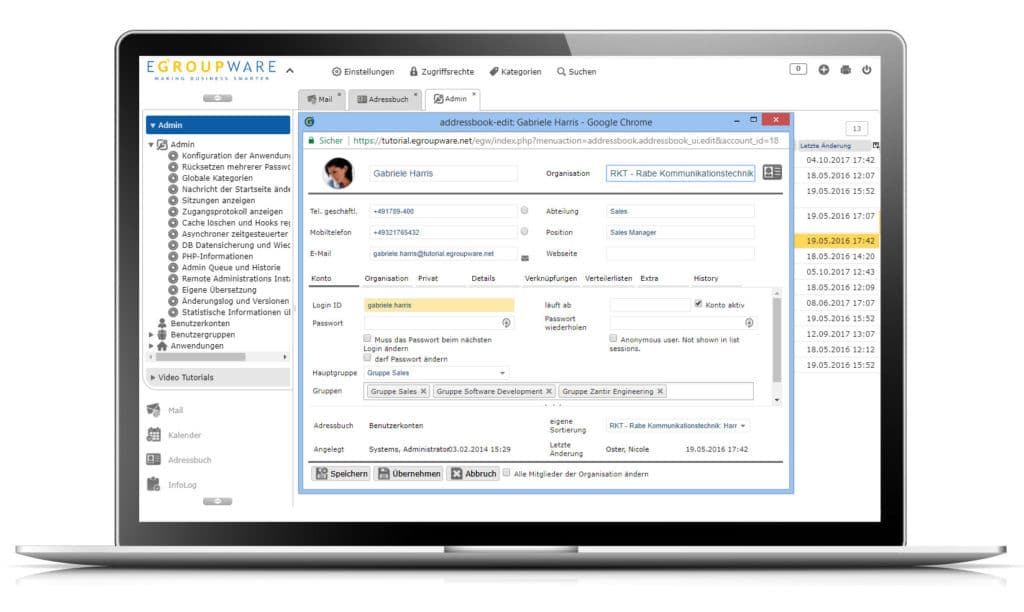 Users and Groups
You can set access rights at group and user level. We recommend that you administer the users as far as possible at group level.
Create your own user groups and determine who has access to the respective application such as tasks, email or project management. In addition, you can set who is allowed to read, edit or delete which data within the module.
EGroupware offers several ways of user authentication, such as..: Active Directory, LDAP, Mail and others. User administration can be outsourced to external systems. Access rights will continue to be processed in EGroupware. This makes it very easy to connect EGroupware to an existing single sign-on system and eliminates the need to maintain users twice. This is especially interesting for larger organizations.
Reporting of time documentation
Create your own reporting with your logo and a list of the respective hours as an attachment to your invoice.

A time-consuming processing of an hourly statement is now a thing of the past. Use the lists provided by EGroupware and import them into your Office application. There you can edit the template again according to your wishes. Create your own design template in Open-Office and add placeholders to it. The placeholders are then automatically replaced by inserting them into your document with the fields from EGroupware.
Filter the time statements by category, project, employee, status, or other criteria and then export the time statements to your Office application. You can then create a PDF document and send it to your customers.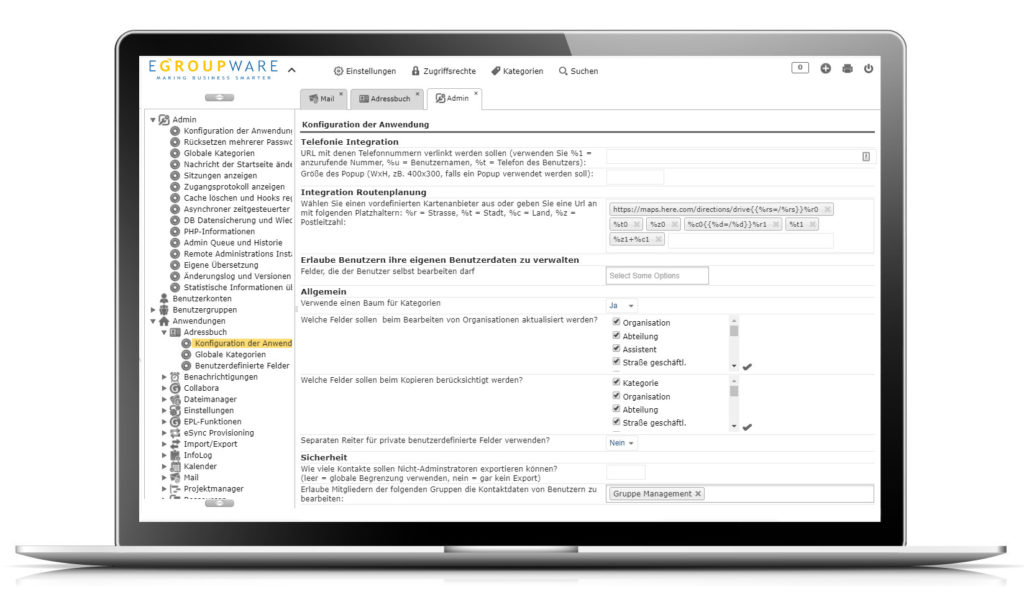 Configuration and settings
Each EGroupware module has its own configuration with which the module can be adapted to individual customer requirements.
Here you can enter settings for the PBX or a lock for data records to be exported, for example.
You can then make further settings with the module Settings. There you can enforce settings for all employees or choose a default setting that is optimal for most users. In addition, users can change these default settings as required.
Different types of categories
In EGroupware you can create different types of categories to get a better overview and additional filter criteria.
You can create superglobal categories (valid for all modules), global categories (only one module) and personal categories (per user and module).
This distinction allows you to access different categories in the address management (e. g. customers, partners, suppliers) than in the calendar module (e. g.: meetings, holidays, training).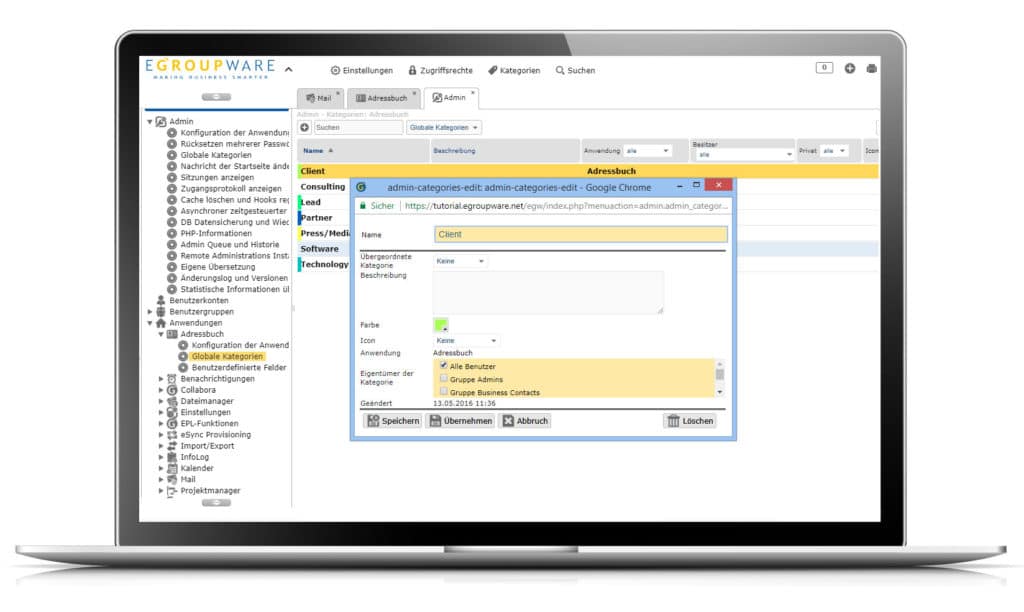 Start with EGroupware now!
EGroupware is available as a cloud solution in our German data center or as an installation package for Linux environments on the local network.
Individual server implementations for Linux environments are available on base of EGroupware's installation packages. Installation instructions for UCS can be found in the Univention section.
With the Timesheet Modul of EGroupware you offer your team an optimal task management tool. Try EGroupware's  Timesheet, Infolog and project management modules now for free!