New Features EGroupware 23.1 plus Managed DAVx5, CLT and COOL Days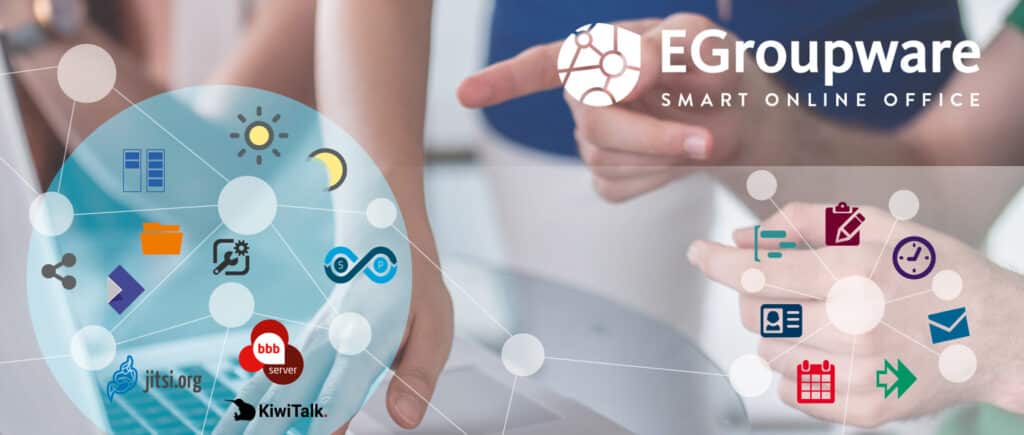 Dear Customers und EGroupware Users,
Some time has passed since our last newsletter, and in the meantime a lot has happened here.
The most exciting news for you as a user: EGroupware 23.1 is on its way.
The release is currently planned for the beginning of March. We also have a current blog post for you and three interesting events on the topic of open source software.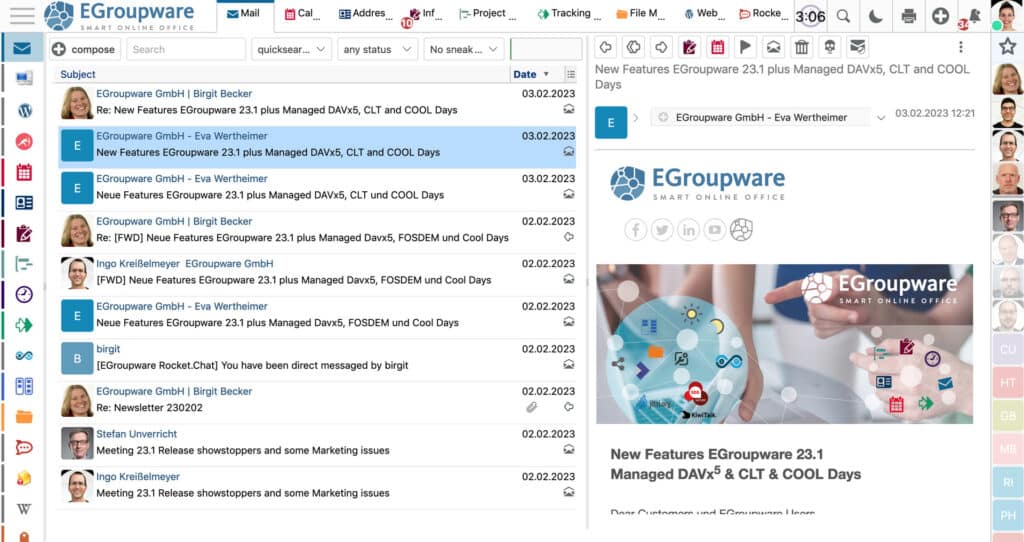 Which new Features does EGroupware 23.1 offer?
✔ Modernized code base with web components and an improved layout
✔ Working time recording & project timer for easy tracking of support times
✔ User & group quota for the file manager module (EPL version only)
✔ OAuth authentication for Google & O365 mail accounts
✔ Improved user selection, especially for large instances (performance)
✔ Push implementation for File Manager and administration so that changes are immediately visible
Information concerning the Release of EGroupware 23.1
In order to make the update to 23.1 as comfortable as possible for all users of EGroupware Cloud, we update 23.1 nightly – in case any errors will be reported and corrected. Some of our customers are already using version 23.1 productively and we are happy about everybody who wants to switch to the new version and test it. We ask EGroupware Cloud customers to contact us by e-mail. For on premises installations, we are currently working on the Release Candidate 4 and will make it available in the next few days.
Success Story: Managed DAVx5 and EGroupware in City Administration Jena

We all know how important it is to be able to access our work data at any time and from anywhere. This was also an important factor in choosing the groupware solution for the Jena city administration. For more than 15 years, EGroupware has been the central solution for team collaboration there. About two years ago, the responsible IT service providers introduced Managed DAVx⁵ [1] for employees' smartphones. Since then, the app has been synchronizing calendars and address books via CalDAV/CardDAV between EGroupware and the employees' smartphones. We asked Jena how the changeover worked out and what advantages the new solution [2] offers. Read the full story in our new blog article or meet the developers of DAVx5 at FOSDEM in Brussels.
[1] https://www.davx5.com/organizations/managed-davx5

The lecture program will again include many lectures in the areas of Linux and Open Source. Workshops: Just listening is boring? No problem. In the various workshops, everyone can get active themselves during this weekend.
Linux-Live: In the exhibition area, projects, teams, associations and companies present themselves under the topic of Open Source. Our Community Manager Stefan Unverricht will be at the LibreOffice booth and is looking forward to meeting you. The program will be published soon on the CLT website.
COOL Days 2023 in Cambridge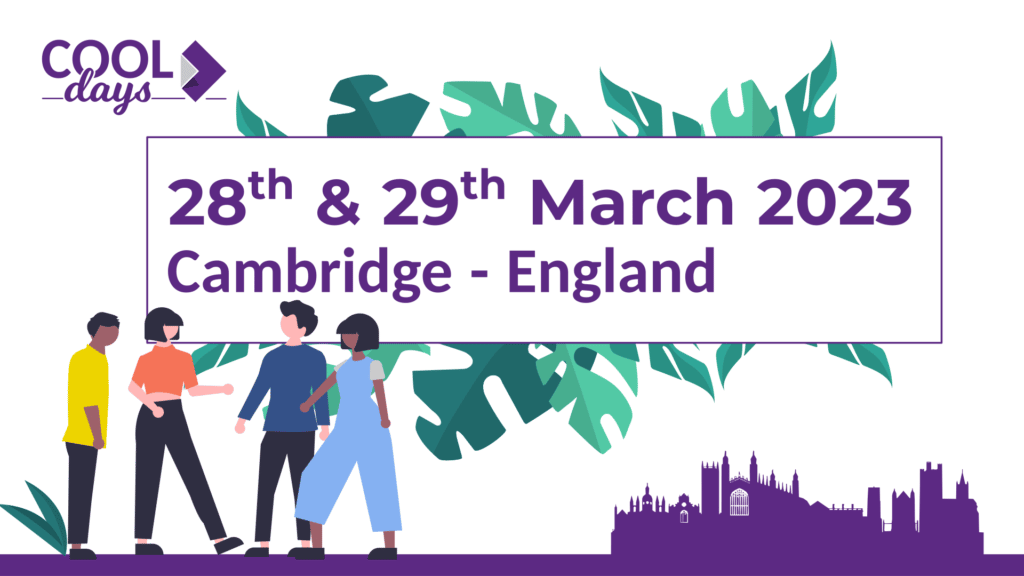 Also in March (28.+29. of March) the COOL Days will take place in Cambridge, the English hometown of EGroupware partner Collabora. During the COOL Days "Conference and Hackfest" the Collabora Road Map will be presented, visitors will get to know brand new features and have plenty of opportunities to network during teambuilding events. EGroupware CEO Birgit Becker will be there and is looking forward to meeting as many of you as possible.
Have a look at her presentation from last year:
https://help.egroupware.org/t/uk-de-cool-days-2022-slides-video/77298
Network Day OSBA (Open Source Business Alliance)
Since November 2022, our managing director Birgit Becker has been a member of the OSBA's extended board. The year 2022 has brought a record number of new members to the OSB Alliance: 33 companies, universities, associations and private supporting members have decided to join the alliance. This means that the OSBA has exceeded the 200-member mark. It is obvious here that the goals of the OSBA coincide with the goals of many stakeholders from business, society and politics. We are happy to be part of it and already invite you to the network day on 11/16/2023.
We will keep you up to date on the changeover to the new version. If you have any questions regarding EGroupware 23.1, please feel free to contact us at any time.
Best regards
Your EGroupware Team