Video supported learning with smallPART
EGroupware provides with smallPART an application for video-supported learning and teaching. The Tool was developed from a co-operation of working groups of the University of Tübingen and the TU Kaiserslautern. The further development and integration into EGroupware is carried out within the framework of a current cooperation between the TU Kaiserslautern (Prof. Dr. Christoph Thyssen and Arash Tolou) and EGroupware. The goal is to create a scientifically based learning platform in EGroupware. The cooperation is designed for at least three years. 
smallPART is an application where you can learn directly "in video". Students can ask questions or give feedback directly in the video. They are guided through the learning process within the video.  There are many possible use cases for the smallPART app.
Visit the smallPART Webinar recording (german language)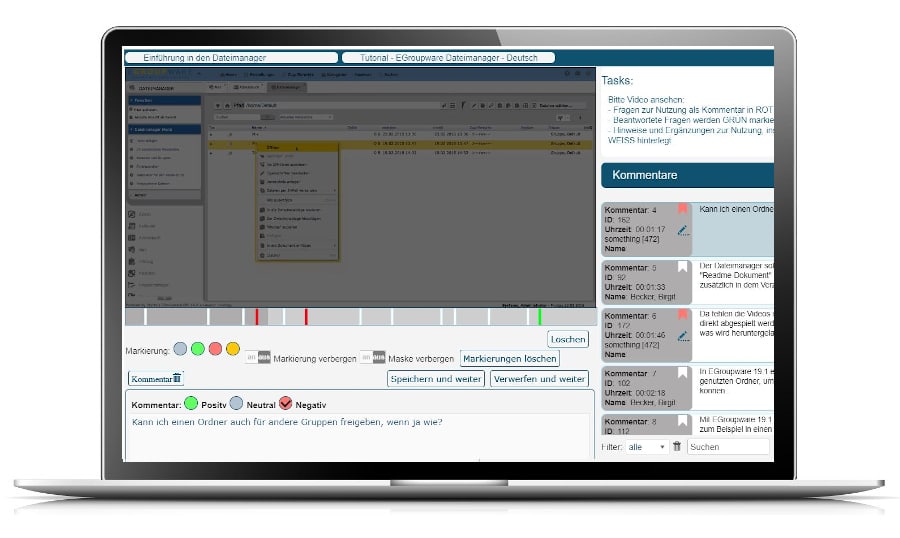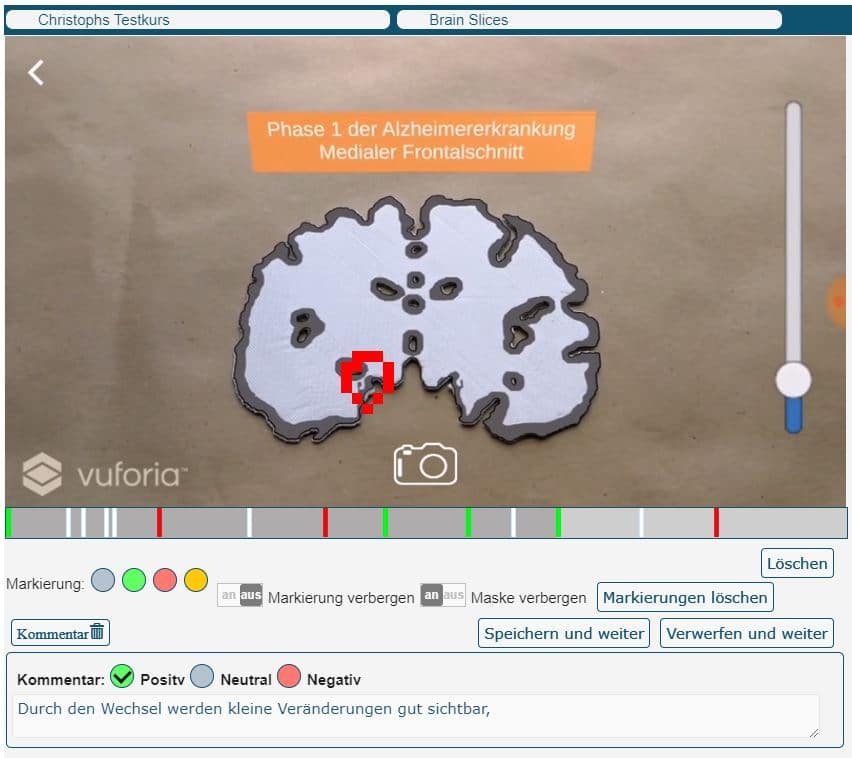 What is behind 
selfdirected media assisted learning lectures & Process Analysis Reflection Tool
The handling is very simple: create course, insert video and describe task.
The learners in the course see the video and the task.
With one click they comment on the running video with color code green, red, white.
Teachers see all comments, can answer and release them.
In contrast to conventional learning platforms, learning takes place directly with / in the video and not only in the form of a text analysis of the video.
Fields of application
Use cas 1: Interactive lecture video
Learners ask questions about video points in form of comments marked in

red

Teachers edit & answer the comments and change the color to

green

Teachers decide whether comments are visible to all, for example to share the learning experiences with others
Advantage: Simple handling and good overview, so open questions can be found and answered quickly
Use cas 2: Analysis of processes e.g. work in the laboratory, equipment operation or driving school situations …
Videography of processes and procedures
Supplement the video with teaching comments at specific times
Integration of questions / observation tasks for video situations and / or placing markers in the "image" to highlight areas of the image
Learners answer via comments, re-tweets or mark relevant elements in the video, e.g. sources of danger, people or control elements
Advantage: Automation and process analysis with easy learning & feedback
Why is learning with videos and modern media increasingly important
Educational videos are becoming more and more popular. Both among students and among teachers and lecturers.
Video learning is easier to consume than reading long explanations
A different format for the information intake and a successful change in teaching.
Complex topics can be easily prepared and explained
Learning with smallPART is interactive, appeals to several senses and uses feedback
smallPART Webinar recording
Take a look at the functions of smallPART in EGroupware. 
If you have any further questions about the use or functionality of EGroupware, please contact us at Contact. We look forward to hearing from you. (Sorry the webinar is only in german language)
Start now with EGroupware
EGroupware ist erhältlich als Cloudlösung in unserem deutschen Rechenzentrum oder als Installationspaket für Linux-Umgebungen im lokalen Netzwerk.
Further information on installation variants can be found in the area support and download. Installation instructions for UCS can be found in the area Univention.
With the integrated Jitsi video conferences of the groupware you offer your team an optimal communication tool. Test the home office functionalities, as well as the EGroupware modules for e-mails, group calendars, project management now for free!