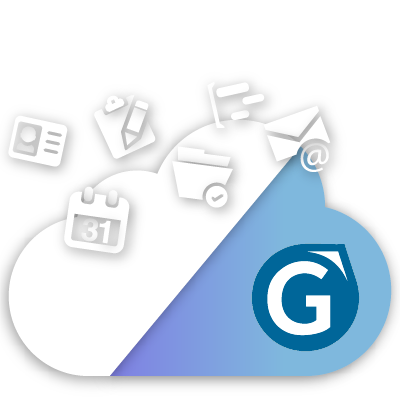 The safe solution for companies: Collaboration with EGroupware in the German Cloud
EGroupware Cloud packages include an unlimited number of user accounts, e-mail services, daily backup and general application support at MyEGroupware support center. Packages refer to the maximum number of users logged in at the same time.
Cloud package prices
| Cloud package | 1 Concurrent user /month | Cloud Package /month | Cloud Package /year |
| --- | --- | --- | --- |
| eTwo | EUR 8,20 | EUR 16,40 | EUR 196,80 (2 concurrent users) |
| eBasic | EUR 7,50 | EUR 37,50 | EUR 450,00 (5 concurrent users) |
| ePro | EUR 6,50 | EUR 65,00 | EUR 780,00 (10 concurrent users) |
| eFlex | EUR 5,50 | EUR 82,50 | EUR 990,00 (15 concurrent users) |
*All prices excluding VAT. Additional concurrent users available for each package.
Download Terms and Conditions
EGroupware Cloud Support
Included services
Access to EGroupware's support platform MyEGroupware
Application support including questions about the general features and functions via MyEGroupware
Additional prepaid support time budget is required for
Training and consulting
Individual configuration, customization and data migration
Personal contact with support team via e-mail, telephone, face-to-face
Any technical services on client side
---
EGroupware Cloud Features
Functions and features
EGroupware Cloud packages include all applications, features and functions of EGroupware Enterprise Line – EPL (full version).
E-mail
E-mail services are included with a default EGroupware domain name, virus protection and spam filtering.
E-mail account management
Get e-mail accounts automatically created by creating an user account.
E-mail app features
Filter rules, management of individual and global signatures, e-mail forwarding, out-of-office messages, sharing of e-mail accounts and folders. Easy integration of own imap e-mail accounts.
Security and daily backups
The certified computing center offers safety and security to your data and provides all the modern computing center services without any extra cost. Access to your EGroupware data instance by https only. All Cloud packages include daily backups.
Storage volume
eTwo: 20 GB storage (combined e-mail and EGroupware)
eBasic: 50 GB storage (combined e-mail and EGroupware)
ePro: 100 GB storage (combined e-mail and EGroupware)
eFlex: 150 GB storage (combined e-mail and EGroupware)
Technical specification
Customer data instances including administrative access to EGroupware (setup app excluded). Cloud services provided by Stylite computing center. EGroupware operation in Germany on our own data storage only.
---
Optional Cloud Features
More storage volume
Exceed the limit of combined e-mail and EGroupware data volume.
Individual e-mail domain
Use your own e-mail domain name instead of the included EGroupware naming.
E-Mail Archive
Ready-to-Go integration of EGroupwares e-mail archive services.
---
Software Features
Special Agreements
Subscription plans such as multi year and flat price agreements available for NGOs/NPOs, social or health care organizations as well as universities and schools.