New features and applications in EGroupware 21.1
Dear EGroupware user,
As you probably noticed, EGroupware has (since the beginning 2021) a new website and a new logo, which we here introduce for the first time. Have a look at our EGroupware Website there is a lot to discover. Furthermore, the development of EGroupware 21.1 is on track and a first pre-release version will be soon available. EGroupware 21.1 is already available in the EGroupware Cloud – for example used in our supportcenter.
If you are interested in testing EGroupware 21.1, just let us know.
Key features of EGroupware 21.1
Kanban Board board for tasks, projects, tickets or as sales-funnel for the sales department
smallPART video-based learning with Single/MultipleChoice or open questions for tests and exams
Sharing Enhancement in the Filemanager for sharing within EGroupware
Dark Mode Theme with easy switching
Telephony Integration enhanced with caller ID and opening of CRM view
EGroupware Firewall Policy for more complex access regulations External/Internal
EGroupware Homeoffice Integration
With EGroupware you can work in your home office or at distributed locations. Access tasks, appointments, files, addresses and projects together.
Work together on your documents with Collabora Online,  which are stored centrally in the EGroupware filemanager.
Chat and video conferences  via Jitsi or BigBlueButton are also possible in compliance with GDPR. If you do not want to operate your own video server, we recommend the following German providers: KiwiTalk.de and bbbserver.de
With the Guacamole module, you get a fully-fledged home office workplace through secure web browser access to your PC in the company.
EGroupware Mailserver Packages and SpamTitan
EGroupware mail server packages (dovecot based with PUSH): (dovecot basierend mit PUSH):
Recommended for self-installation with users in SQL
Advantage: easy administration of mail accounts from EGroupware including alias, forwarding, permission of email accounts or folders for other users, Sieve filter rules and absence notice (can also be set by an admin for others e.g. in case of illness).
Optional spam and virus filtering via SpamTitan including API connection in EGroupware for marking SPAM/Ham (learning mode) or blacklists/whitelists.
Kanban application
for tasks, projects, tickets or as a sales funnel
With the new Kanban application, you manage processes smart and flexible.
You simply define a Kanban board with the applications and user groups you want to use.
For more automatism, you define how new entries are added or actions that should take place when they are moved.
For example, if you move a task to the "done" column, it is closed and removed from the board. Two people are responsible for a process step? You define this on the board and the assignment happens automatically.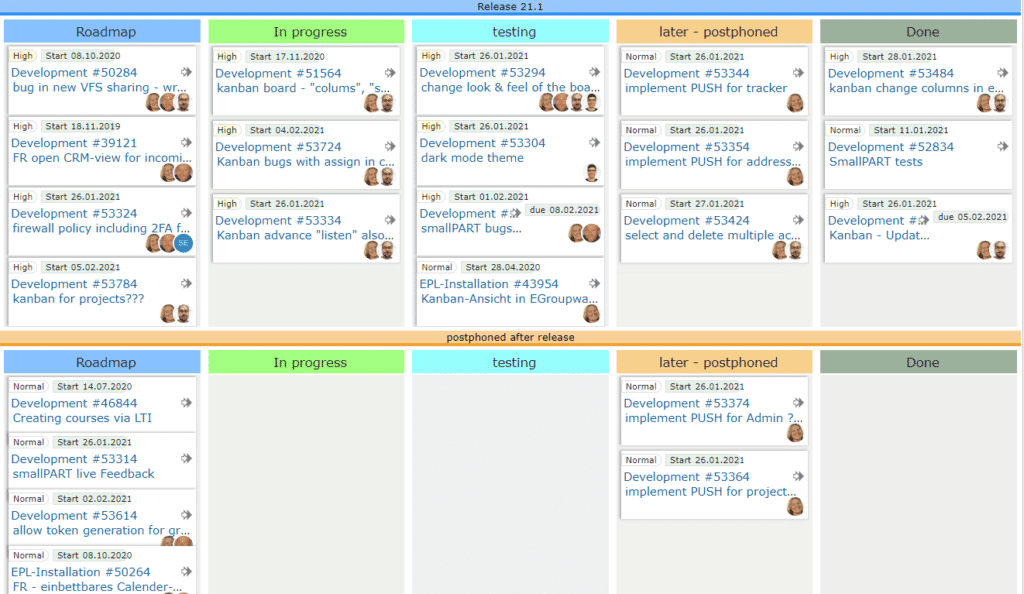 More about Kanban …
smallPART for tests and exams with single, multiple choice or open questions
Embedding via LTI in learning platforms
smallPART for video-based learning receives an extension for automated tests and exams with EGroupware 21.1.
You create multiple choice questions, mark the correct answers and set options for the exam if necessary.
A compulsory question for example, has to be answered before the student can continue to watch the video or the answers should be displayed in a random order.
Once the test taker has completed the test, the analysis happens automatically. In case of open questions, the teacher can simply comment them and award points.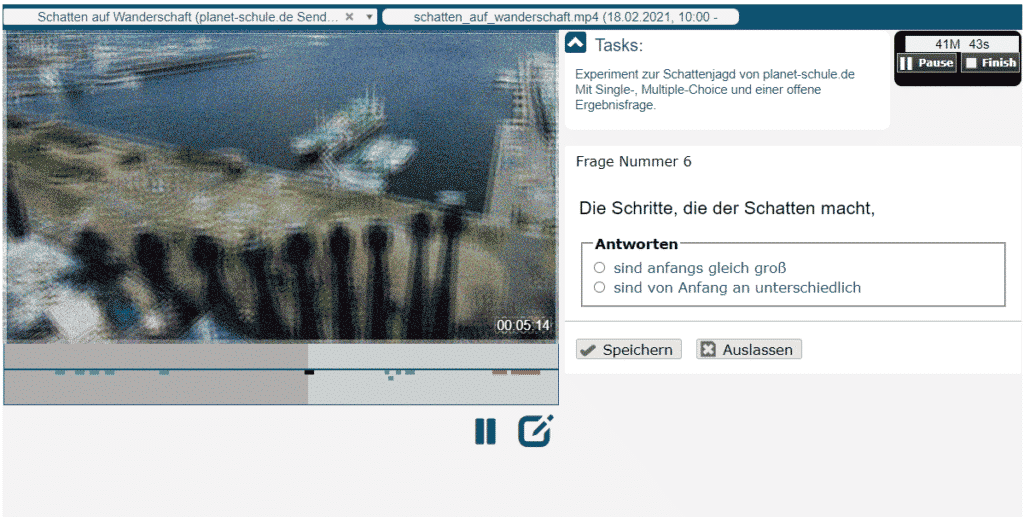 More about smallPART …
Sharing enhancement

in the Filemanager for sharing within EGroupware
EGroupware 21.1 simply displays shared files or folders in your personal home directory under "Shares".
If you want to see this sharing link even after logging in again, add it permanently to your shares with one click. If you no longer need it, simply delete it again.

More about document sharing …
Do you prefer an inverse display of the content in the dark – called Dark Mode?
As of version 21.1, you can switch between day and night mode with a single click or automatically if your operating system supports it, e.g. MacOS.

Telefonie-Integration
extended with caller ID and opening the CRM view
Integration with Placetel telephone system
In EGroupware 21.1, incoming calls can now directly open the CRM view of the contact or organisation. 
The requirement is either the use of a Placetel telephone system as part of the EPL functions or that your telephone system uses our Api calls. More detailed information about the Api can be found in the administration of the EPL functions. Further integrations are for example the display of calls in the calendar, or the call list with identified contacts or the total call list (incoming, outgoing, missed) for the administrator. More to come!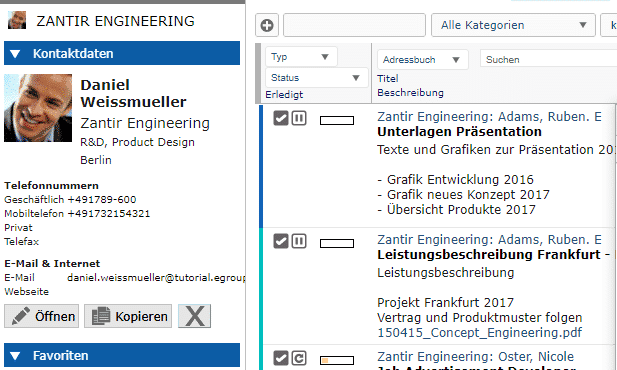 More about CRM Integration …
EGroupware Firewall Policy
for more complex access regulations External/Internal
EPL only
You want to define a fine-grained rule for your organisations, like "who is allowed to log in when and how"?  
Access to the company network is supposed to be used as a second factor (2FA)? You simply specify the corresponding IP ranges. You want to allow access for a limited time or only permit access from outside the company network via 2FA and only for the groups admin, sales and management?
All this is possible with the firewall policy.