Most Office Work could be done with one Software Solution
EGroupware is released in Version 19.1
The EGroupware GmbH has released the latest version of its collaboration solution. Among the new features are above all a messenger, functions to fulfill the GDPR, improved security through two-factor authentication and a clearer design of the user interface.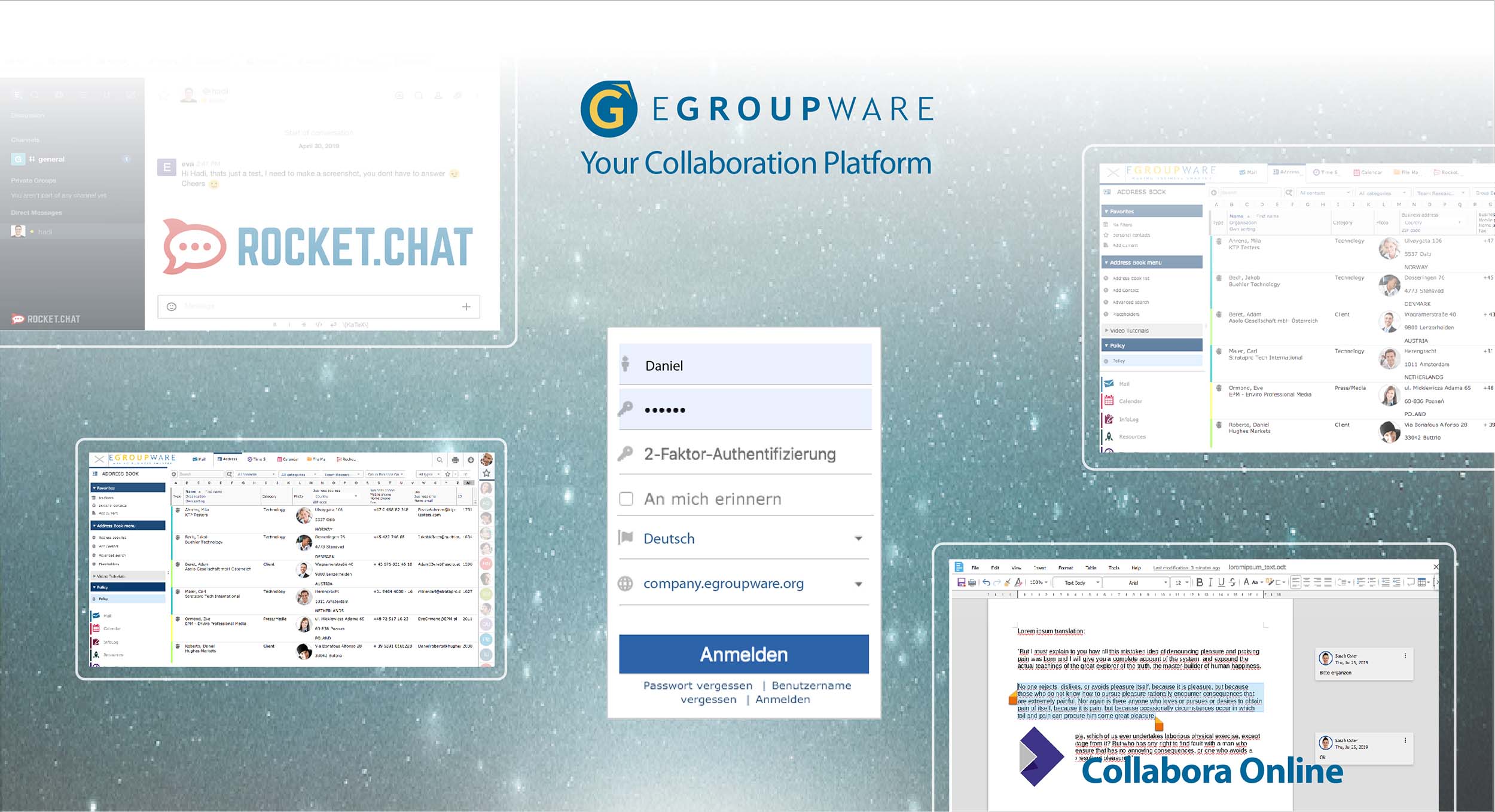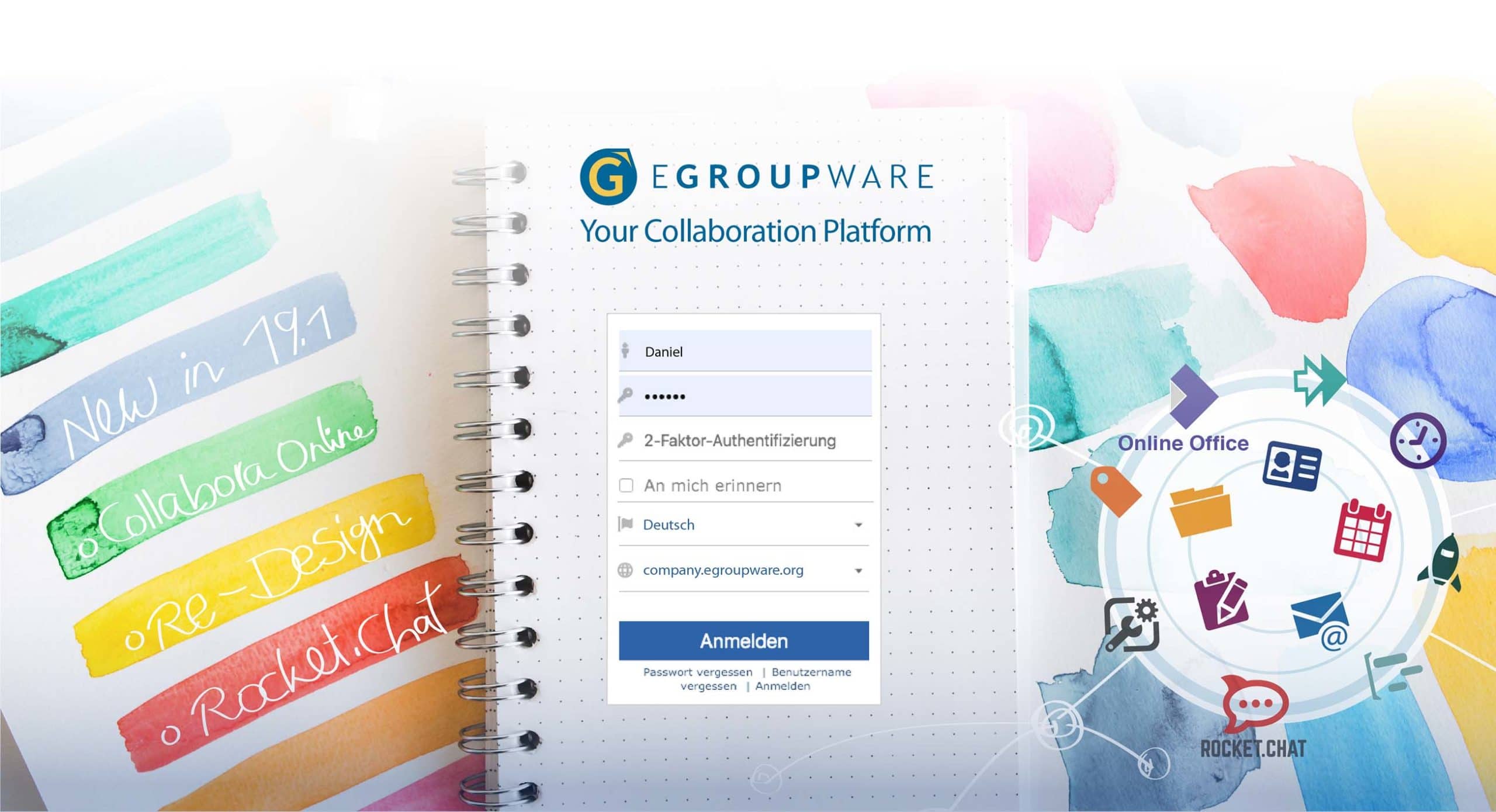 EGroupware 19.1 at a glance and the new login-page of EGroupware 19.1
Kaiserslautern, August 13, 2019 – About one and a half years ago, EGroupware experienced a comprehensive expansion with the integration of the Collabora Office suite. This year's improvements show that the manufacturer and its developer community are responding quickly to current IT issues and challenges.
In the future, it will be possible to embed fundamental measures for compliance with the Basic Data Protection Regulation (GDPR/DSGVO) in EGroupware. In the new "Policy Application" the handling of address books can be regulated. Authorized persons can define which fields have to be filled out and who is allowed to access them. At the same time, all changes concerning access rights can be tracked in the admin tool. All measures are recorded in the new "Admin Documentation" and can therefore be verified. This GDPR/DSGVO tool is a paid feature and only available in the "Enterprise Line" (EPL) of EGroupware.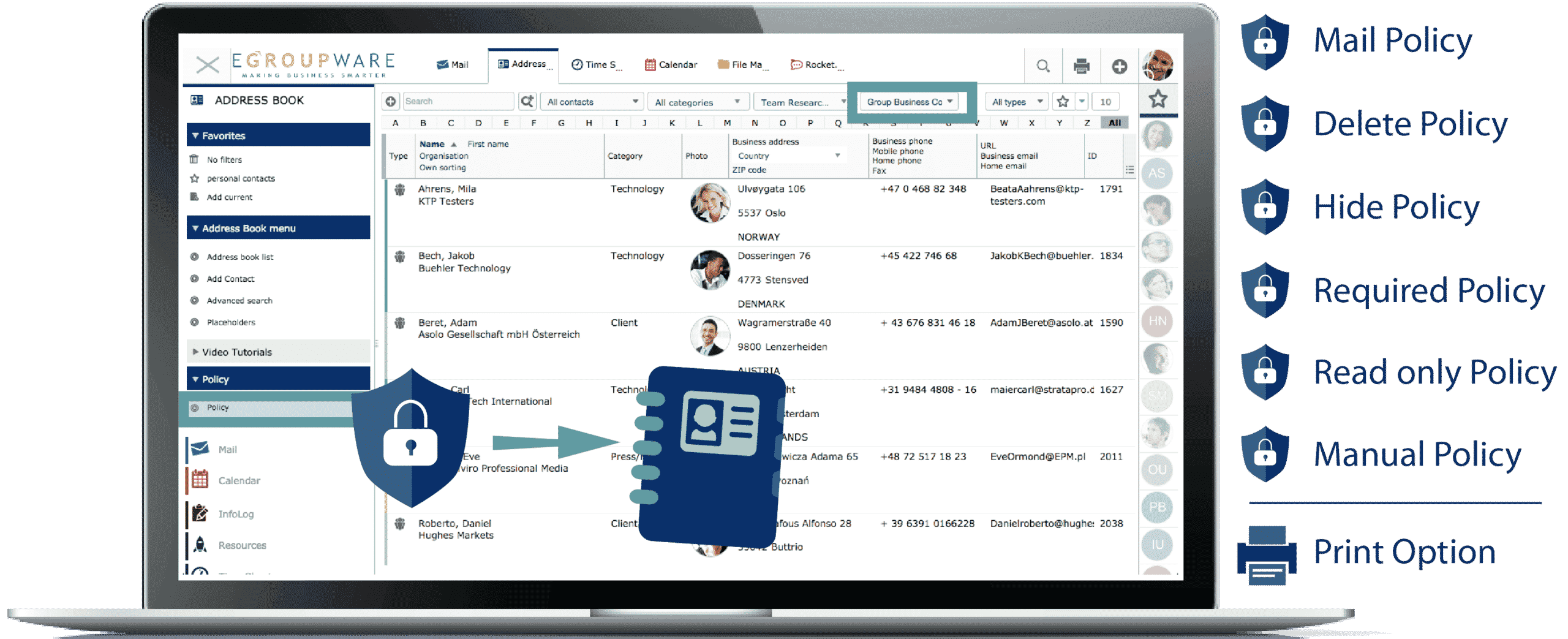 A security measure that is still far too uncommon is now available for EGroupware users: Two-factor authentication (2FA). Users receive a second security key for data traffic, which is only valid for a short time. Administrators can optionally or mandatory enable two-factor authentication within the user group of EGroupware. The EGroupware development schedule includes the option to enforce two-factor authentication via policies for external users only, for EPL customers.
Furthermore, since version 19.1 EGroupware contains the messenger "Rocket.Chat" for all users. Rocket.Chat is, like the collaboration solution itself, open-source and the leading alternative to proprietary chat tools such as Slack or Microsoft Teams etc.. Rocket.chat enables team and video chats, screen transfers and the exchange of files.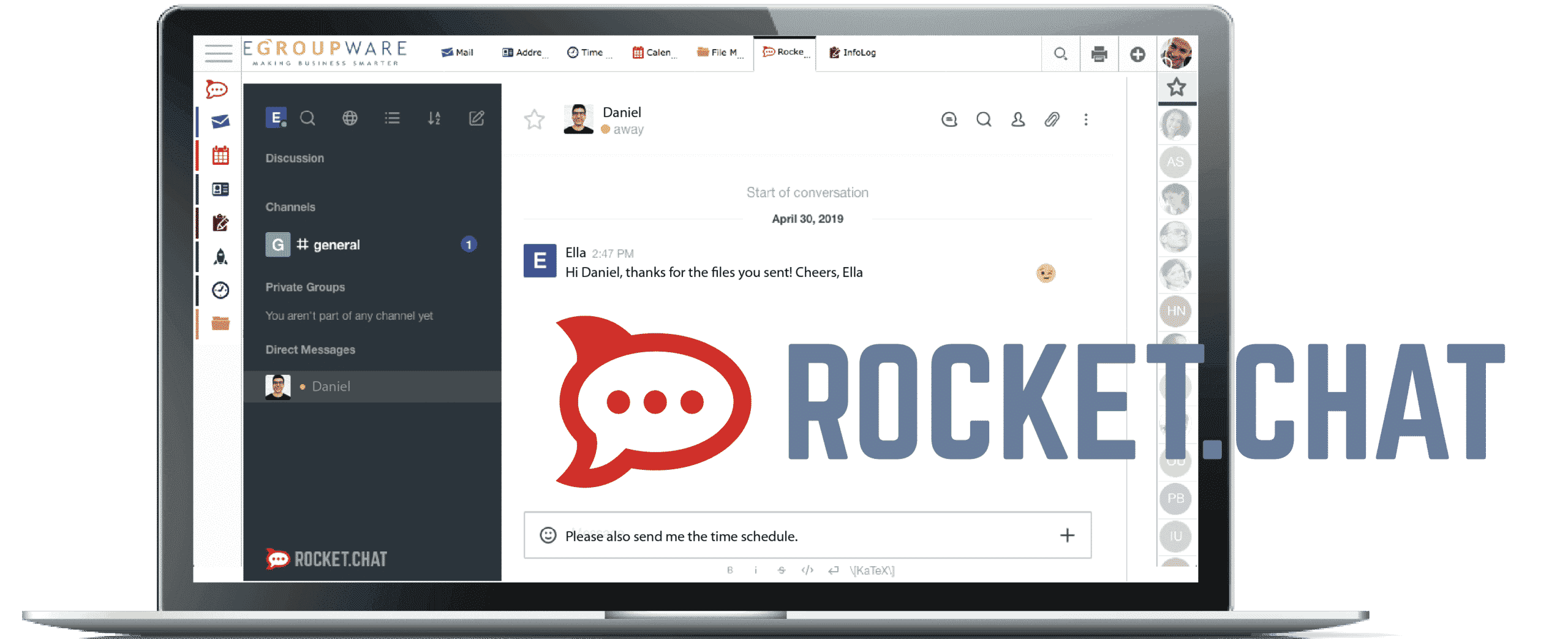 For the integration of Rocket.Chat EGroupware was extended by an OpenID Connect / OAuth2 server. This allows applications that can authenticate via Oauth to be connected to EGroupware. This makes it possible to integrate solutions that do not exist in EGroupware, such as company-specific applications, into the collaboration software.
The innovations of EGroupware 19.1 are most clearly visible in a rather small detail. The EGroupware applications now all have their own color. The different colored icons and page menus run through all functions of an app. This facilitates orientation and overview in the groupware, which is rich in applications. If needed, you can still use a monochrome display. By the way: EGroupware users can now add a photo or graphic to their profile.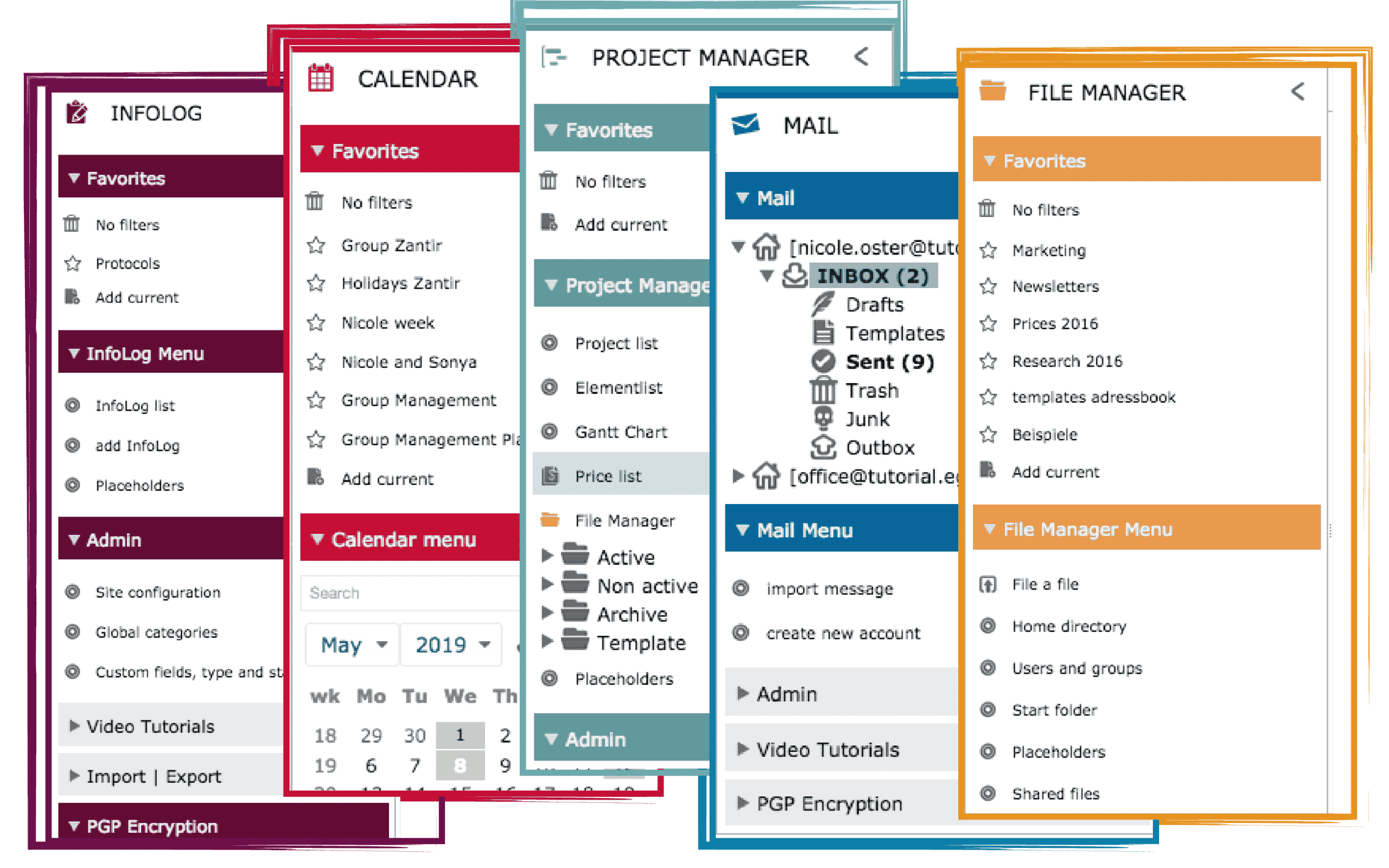 Also well-known applications in EGroupware now include some innovations:
 Documents from Collabora can be opened in the file manager by clicking on the "Collabora Sharing Link" for collaborative editing with a team – also with external partners. Collabora Online makes it possible to send documents by e-mail without any detour through the mail application. Images can be inserted directly into Collabora from the file manager of EGroupware.
In the ticket system comments can be edited and attachments can be added. The chronological order of comments and attachments is maintained.
A glance at the "Status App" on the right-hand side of the window shows which colleague is present at all times. One click is enough to chat with him or write e-mails – without an external chat program.
From version 19.1, the mail app allows you to edit the subject of existing mails. This provides a better overview if mail partners use unclear or misleading subject lines. This also applies to mails with scanned documents or electronically received faxes.
The new editor "TinyMCE" fully supports "Content Security Policy" and thus increases the security of the EGroupware environment.
With the Outlook CalDAV Synchronizer, data from the address book and the calendar can be synchronized alternately between EGroupware and common Outlook versions.
With version 19.1 EGroupware consistently pursues a high standard.
"The integration of Collabora Online Office in version 17.1 brought EGroupware much closer to the vision of offering everything that the normal office user needs on one collaboration platform. With the messenger Rocket.Chat and the possibility to integrate further applications via OAuth, we have taken the next step", explains Ralf Becker. The managing director of EGroupware points out the perspectives:
"The technical conversion to Docker as a platform simplifies the installation and will allow us in the future for example to inform users in real time about changes".
In case you want to have a look at our german webinar about EGroupware 19.1, you'll find it here:  >> 19.1 Webinar
If you have any kind of questions concerning EGroupware 19.1, please feel free to contact us.
Best regards
Eva Wertheimer
EGroupware GmbH