New perspectives are appearing
The new EGroupware version 20.1 is now available.
EGroupware gets an extension for video-based learning and teaching, for video conferencing and for remote use of company PCs. In addition, two technical innovations make the collaboration software resource-saving and secure.
Kaiserslautern, 12.08.2020 – A new module for EGroupware is "smallPART". The acronym stands for "selfdirected media assisted learning lectures & Process Analysis Reflection Tool". With smallPart and EGroupware, teachers can create courses, insert videos – also with annotations at certain points – and describe tasks. On the other hand, learners can comment on these videos at any point or add questions. These annotations can be seen by the teachers and, if approved, also by other students.
External participants receive an e-mail with a link to join the conference. The data connection is encrypted, and as long as the server is located in Germany, there are no privacy concerns. No other tool is required. Jitsi runs in a web browser.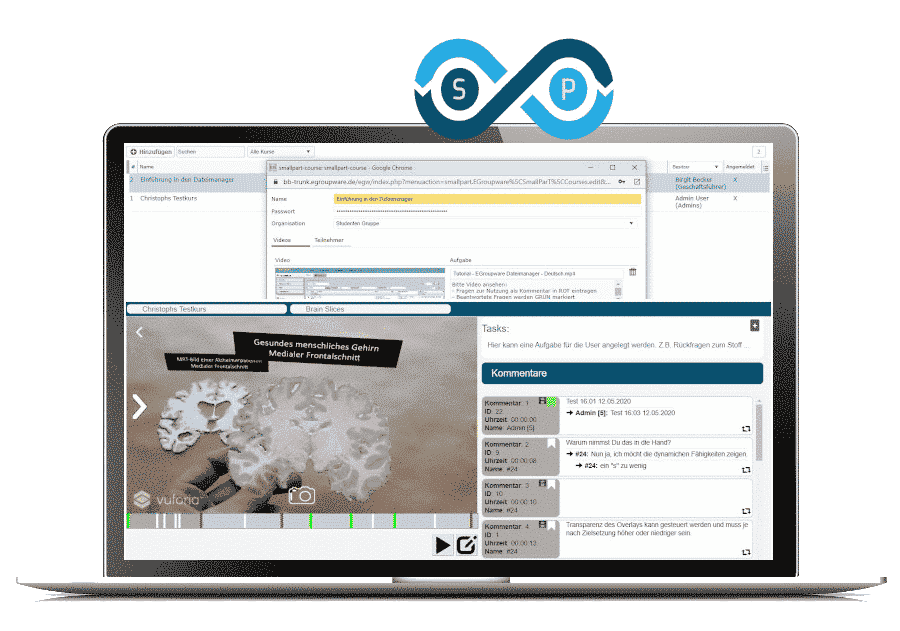 The tool smallPART is the result of a cooperation of working groups of the University of Tübingen and the Technical University of Kaiserslautern. The further development and integration into EGroupware is a cooperation between the TU Kaiserslautern, namely Prof. Dr. Christoph Thyssen and Arash Tolou, and EGroupware. The module smallPART is available free of charge under the GNU Affero General Public License 3.0 and thus in all variants of EGroupware.
Due to the Corona crisis and the necessary changeover to work from the Home-Office, the Kaiserslautern software house has brought forward functions originally planned for version 20.1 and released version 19.1 in April 2020. Now, the integration of video conferencing systems based on "Jitsi" and a further retrofittable module "Guacamole" are available.
On the one hand it is possible to integrate the open source application Jitsi into EGroupware. This combines the functions of the video conferencing solution (video, audio, chat, desktop sharing) with business functions of EGroupware such as scheduled video conferences, inviting participants by e-mail or ad-hoc calls. On the other hand, the Guacamole module accommodates the foreseeable increased use of home office: It allows performance-hungry applications to be used on company desktops and servers from the web browser of private user PCs without requiring an additional license. Access is via VNC/RDP/SSH and is secured with SSL encryption, 2-factor authentication, rights management and brute force protection. The data stays where it belongs: in the company!
The version 20.1 of EGroupware brings a technical innovation that will be gradually introduced into all modules of the collaboration software in the future: the PHP Swoole-based push server, a NodeJS-like technology for PHP environments.
This ensures that the clients are informed about news concerning them without delay. With the integration of PHP Swoole in EGroupware 20.1, the calendar view, including timesheet and infolog, will be updated as soon as someone makes a change, sends an appointment request or enters an appointment.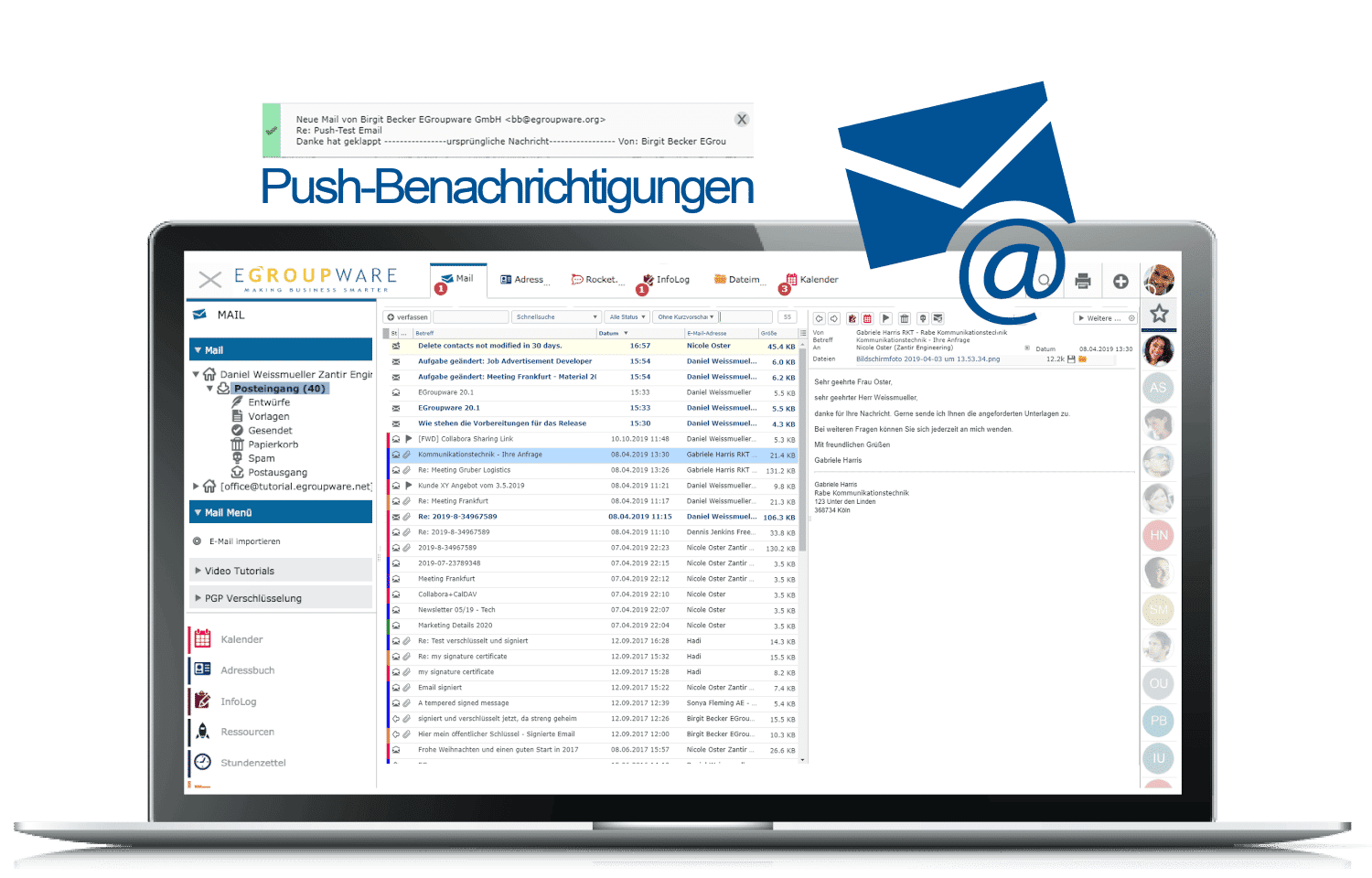 If a customer uses the email service of EGroupware or has configured his own Dovecot accordingly, he will receive a concise display of the newly received mails with sender, recipient account and subject line without delay thanks to this push technology.
EGroupware GmbH will extend this technique for future versions and make it available for as many additional mail servers as possible.
However, users will not notice anything new in EGroupware: The developers provide the client and Browser-side code from JavaScript to TypeScript. In the opinion of many programmers, TypeScript offers the best solution for more complex applications a better development environment, makes them more productive and reduces error sources.
If you have questions about EGroupware, please contact