CE vs. Enterprise Line/Cloud
EGroupware Community
"The contributions and wishes of users at our last user conference and the ongoing suggestions from our new forum have given us significant impetus", explains Ralf Becker, Managing Director of EGroupware GmbH."
"Incorporating user suggestions and wishes is also a feature of Open Source, and so we will continue to develop EGroupware beyond the new version."
CE vs. EPL – Differences and Advantages
80% of the Enterprie Line "EPL" Features are included in the Community Edition "CE".
Features and functions that are of particular interest to companies are sometimes only included in the EPL version or in the cloud packages.

Preferred support and cheaper rates for EPL/Cloud customers

Switching between Community Edition "CE" and Enterprise Line "EPL" is possible at any time and easily in both directions

All existing data is transferred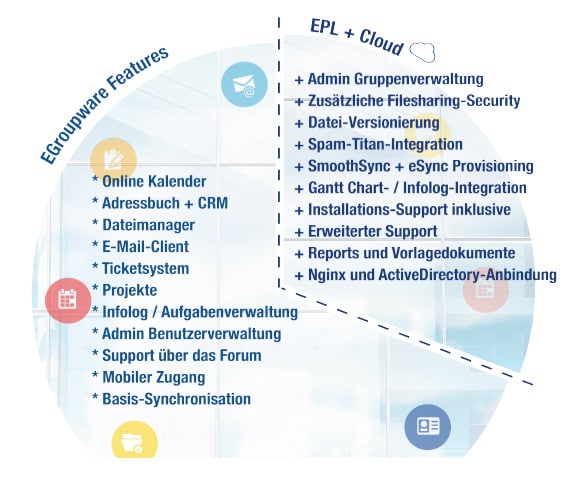 Only included in the Enterprise Line "EPL"
"Policy App" helps to become GDPR compliant since Version 19.1. – Feature for the enforcement of effective data rights management strategies

Additional file sharing security

File versioning and notification of changes

SpamTitan integration

SmoothSync and eSync provisioning

Reports and template documents

Project Manager / Gantt Chart / Infolog integration

Calendar / Infolog integration

Infolog PGP encryption for confidential data

Group management

Mount option for EGroupware's GUI templates (eTemplate) for easy editing and customising of user dialogues and masks. With this option your settings persist in case of updates.
EPL for larger organizations
For larger companies EGroupware offers interesting options:
Active Directory integration

Nginx web server – VMware image available

Scalable configuration according to a large number of users

Support contracts for remote operation management

Rights management via user group management

Operation of Collabora Online Server in our own data center
How does EGroupware Support work?
Community Forum:
Free of charge for all users (supported by the Community Manager)
Support-Plattform MyEGroupware (Ticket System):
Free of charge for EPL/Cloud packages

Chargeable for community users
Individual support:
(1:1 Consulting, On-Site Workshops, Screensharing)
Lower tariff for EPL/Cloud customers

Support contracts for remote operation management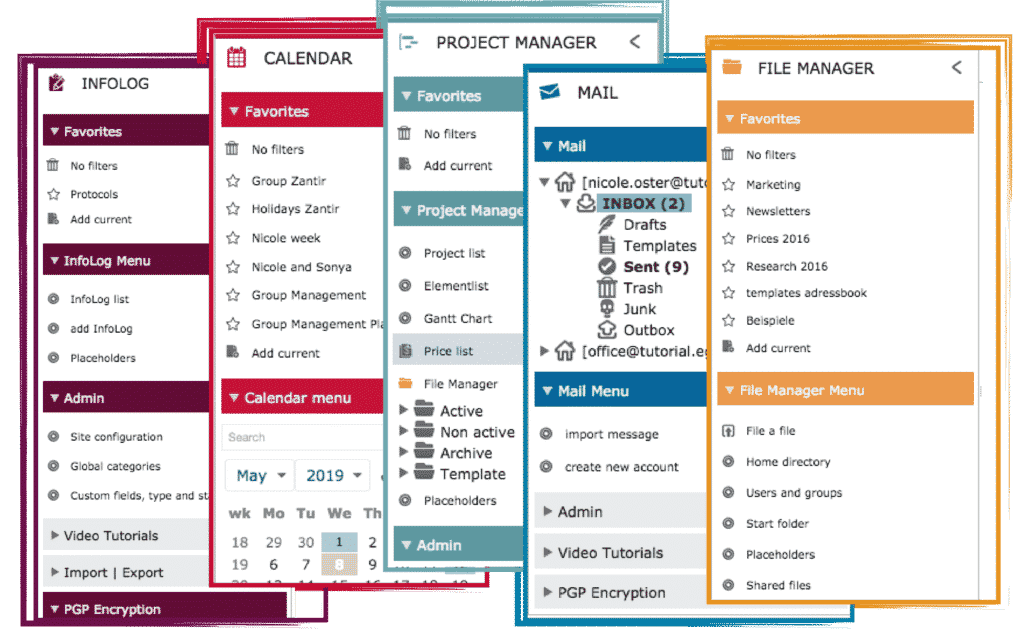 Start now with EGroupware
EGroupware is available as a cloud solution at our German data center or as an installation package for Linux environments on the local network.
Further information on installation variants such as Univention Corporate Server can be found on the website under Technology.