Mail Client
Read and reply to your mails online:
The EGroupware mail client supports your team in processing mails. Optimize collaboration by allowing you to access your email from anywhere.
EGroupware's email client is optimally integrated with other applications such as address book, task management and file manager.
The mail client, as a very frequently used application, allows you to integrate several mail accounts. You can access your mails both via your web browser and your mobile phone, so you are always up to date with the latest status of your communication.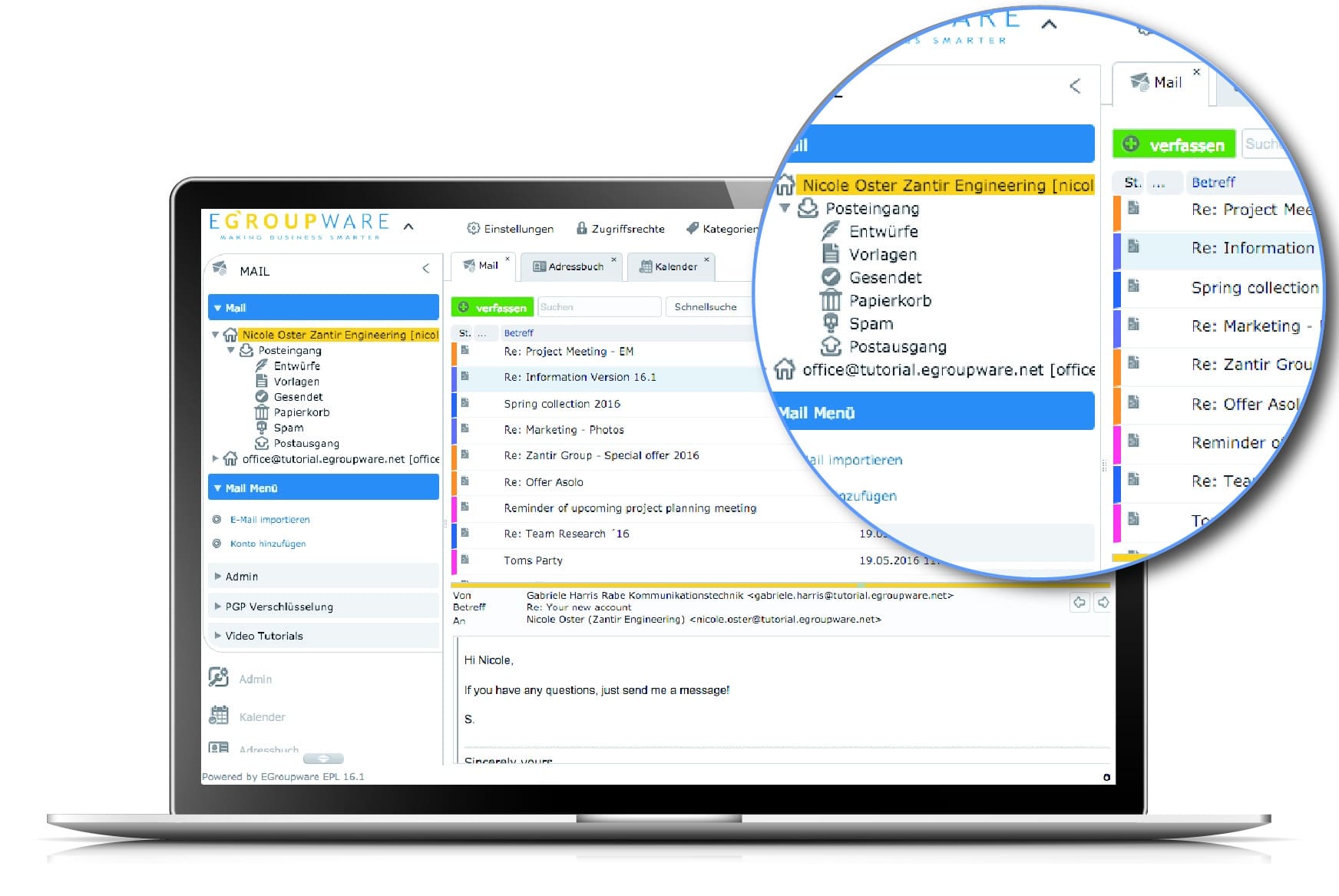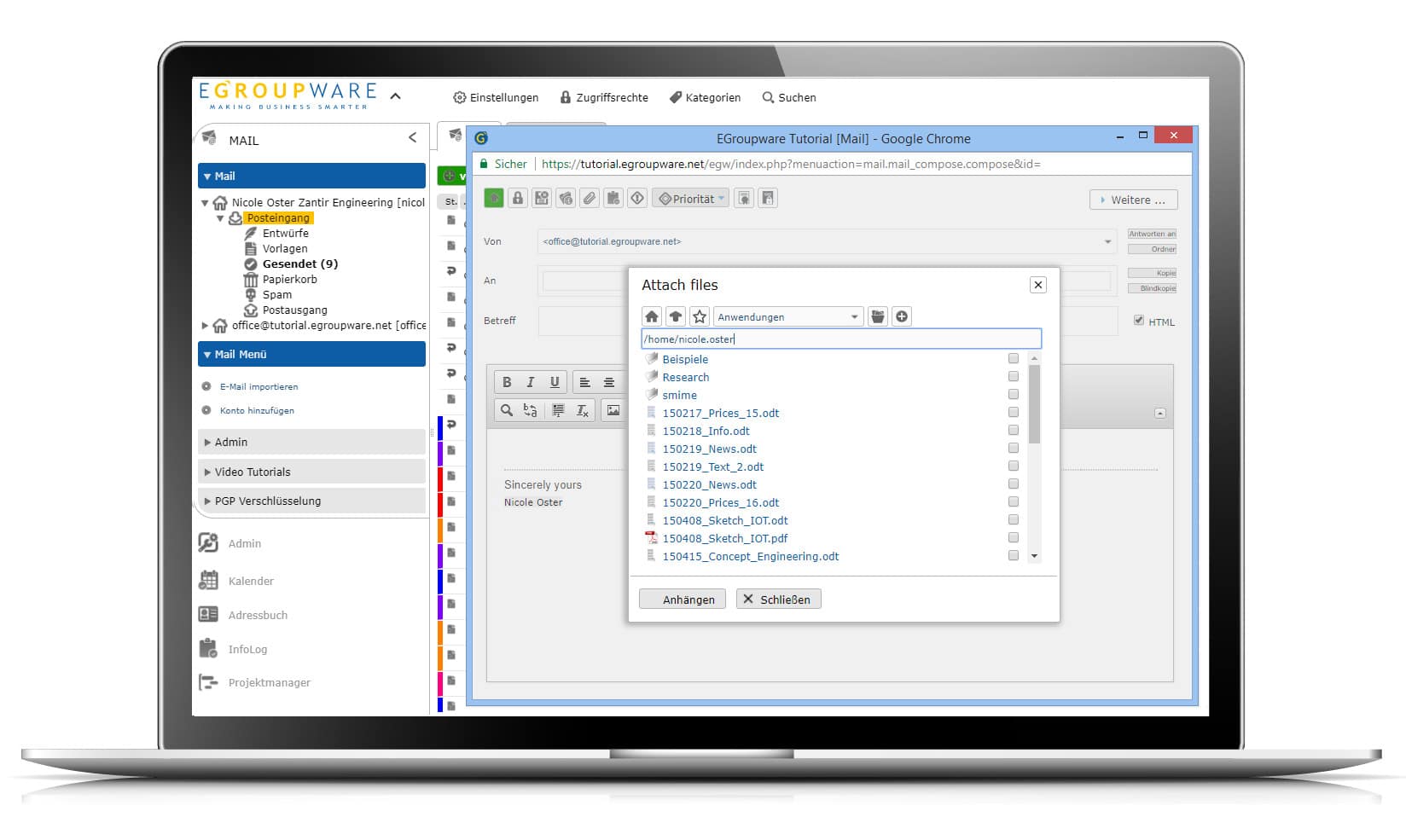 Interaction with other applications
With the file manager integration, you can easily attach documents from the internal file manager to an email. You don't have to upload the attachments from your local hard drive first. The simple storage of mails in the task management makes it possible to link the information directly with the sender. You use EGroupware as a central source of information for your digital office.
This facilitates cooperation with colleagues and external partners. In addition, you can also send particularly large files via a sharing link and you will receive a kind of separate exchange directory where external files can be uploaded again on request.
Of course, in the address book you can also use mail templates to send emails with personalized customer information, e. g. to distribution lists.
Out of office messages and filter rules
With this powerful webmailer you can create individual signatures, manage your own filter rules, edit email forwarding and manage out-of-office messages.
The filter rules (sieve scripts) are stored on the server side and you also benefit from these filter rules on your smartphone or tablet. You can create a hierarchy of different rules and set specific redirects per sender. This simplifies the processing or sorting of your inbox.
It is especially easy to manage sharing to subfolders for your colleagues, or to set up holiday or absence notifications. As an administrator, you can also activate absence notifications for a colleague if he or she is no longer able to create a notification due to illness, for example.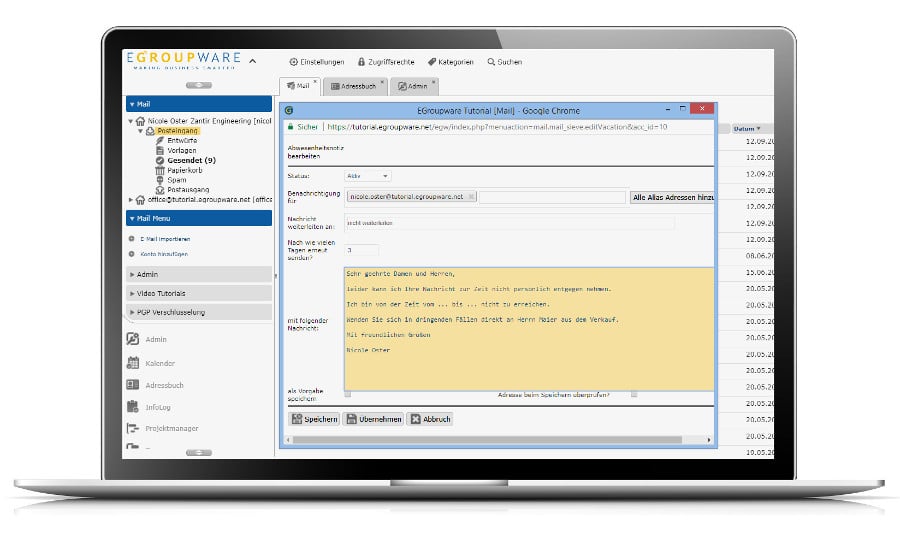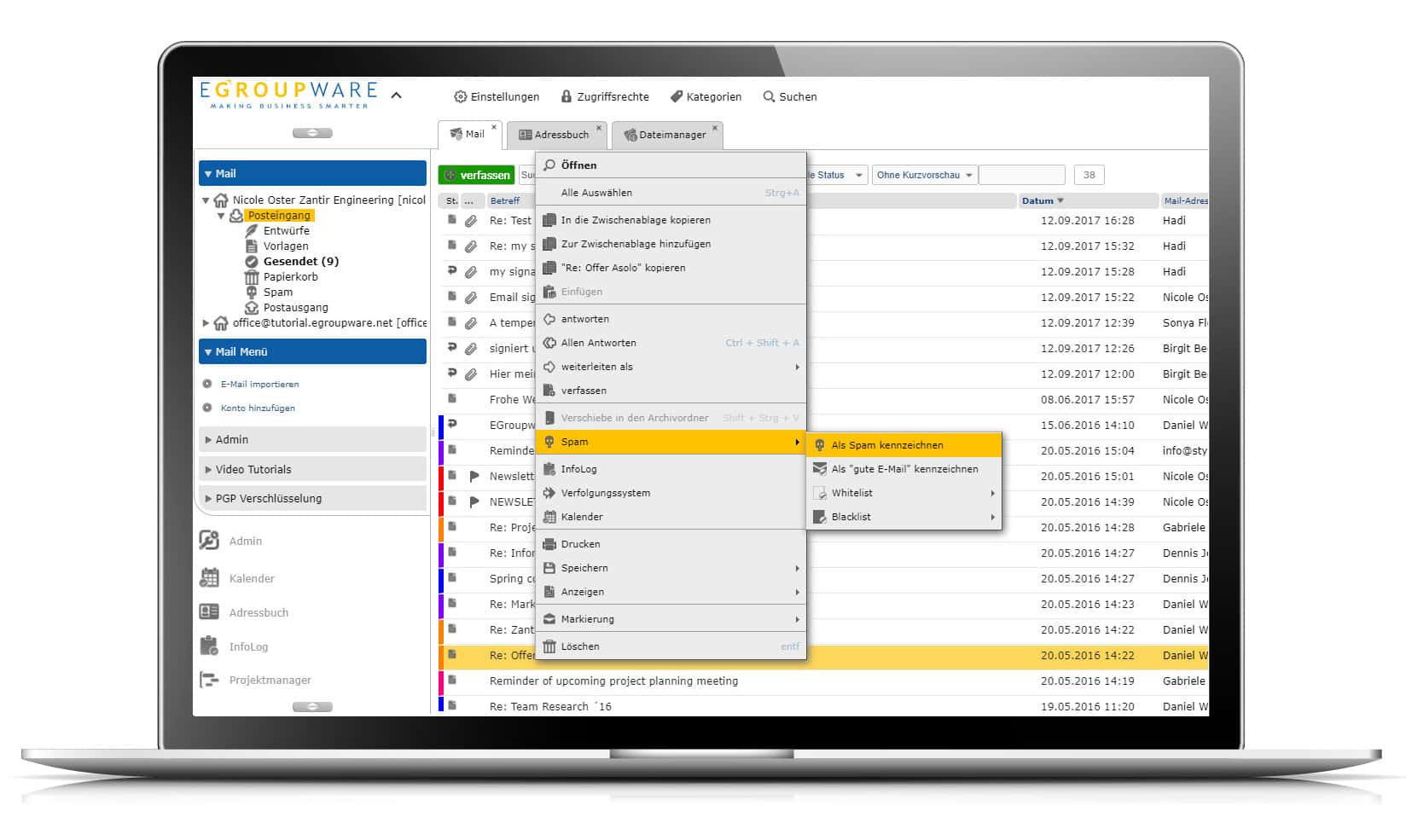 SpamTitan and email encryption
In addition to PGP encryption of mails, EGroupware now also offers S/Mime encryption. The keys are stored in EGroupware. The public key is stored in the address book and the private key in the user's mail profile.
With the integration of SpamTitan into EGroupware, hosting customers can mark email addresses as black- or white-listed and emails as spam or ham directly from the mail module. Thus, the filter learns and reduces the number of unwanted mails.
Even if your emails are not hosted by EGroupware, you have the option of using SpamTitan as a service for spam and virus filtering.
Manage email accounts
Integrate easily shared email accounts, such as an office account with the responsible employees. The rights management gives you full control over who has access to the account at any time, without passing on the respective access data.
The administration of the e-mail accounts in EGroupware enables you to connect your e-mail server to EGroupware via authentication interfaces both in the EGroupware cloud and in your own installation. This simplifies the administration for your organization considerably, because you only have to create a new user and the latter then automatically has his own email account in addition to the access to the EGroupware. Signatures can also be managed centrally.
For larger organizations in particular, central administration and integration of LDAP or ActiceDirectory is an important requirement for modern communication systems.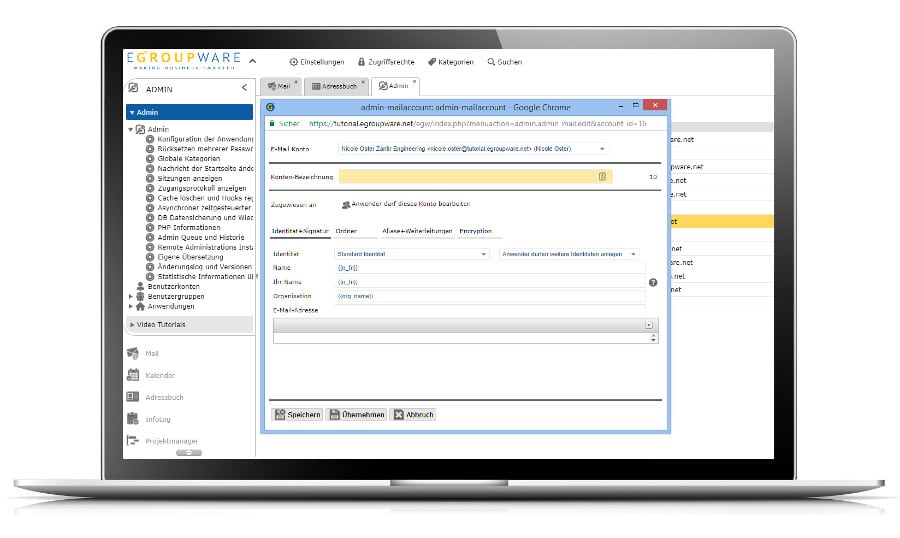 Start with EGroupware now!
EGroupware is available as a cloud solution in our German data center or as an installation package for Linux environments on the local network.
Individual server implementations for Linux environments are available on base of EGroupware's installation packages. Installation instructions for UCS can be found in the Univention section.
With the mail module of the groupware you offer your team an optimal communication tool. Try EGroupware's  email, group calendar and project management modules now for free!