Category Archives: EGroupware In the press
April 24th, 2020 by
EGroupware
Video conferences and remote access to desktop PCs integrated
The collaboration solution EGroupware now offers a module for video conferences with the integration of "Jitsi". The new module "Guacamole" provides a full-fledged home office workplace by accessing the company PC via web browser.

Video conferences with EGroupware 19.1
Kaiserslautern, 24.04.2020 – With Jitsi, it is very easy to hold video conferences with colleagues at home or in the home office and with external parties. Via the status bar, EGroupware users can see who is online. With these employees, ad hoc virtual meetings can be arranged. For others and contacts outside the groupware circle who are not online, invitations can be sent out from EGroupware and conference appointments can be arranged.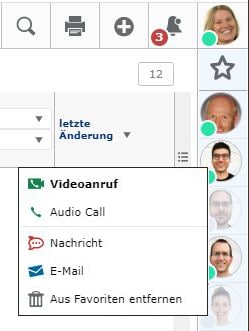 External participants will receive an e-mail with a link to join the conference. The data connection is encrypted, and as long as the server is located in Germany, there are no data protection concerns. No additional tool is required. Jitsi runs in a web browser.
Parallel to the video conference, other EGroupware modules for chat, document exchange and editing (Collabora Online) etcetera can be used.
The Jitsi extension is part of the maintenance update 19.1.20200409 of EGroupware. For its users – in the community like the
Professional version – the EGroupware GmbH and IONOS Cloud offer a jitsi server in Frankfurt, which will be available free of charge during the Corona crisis until the end of June 2020. If you have already set up Jitsi on your own server, you can simply add it to EGroupware.
Working in the home office is only possible to a limited extent in many places. For one thing, the desktops or notebooks available there do not have the performance of the end devices in the offices. And for another, it is neither possible nor desirable to set up VPN connections for all external systems. Therefore EGroupware GmbH has additionally made the module Guacamole directly from the collaboration software usable.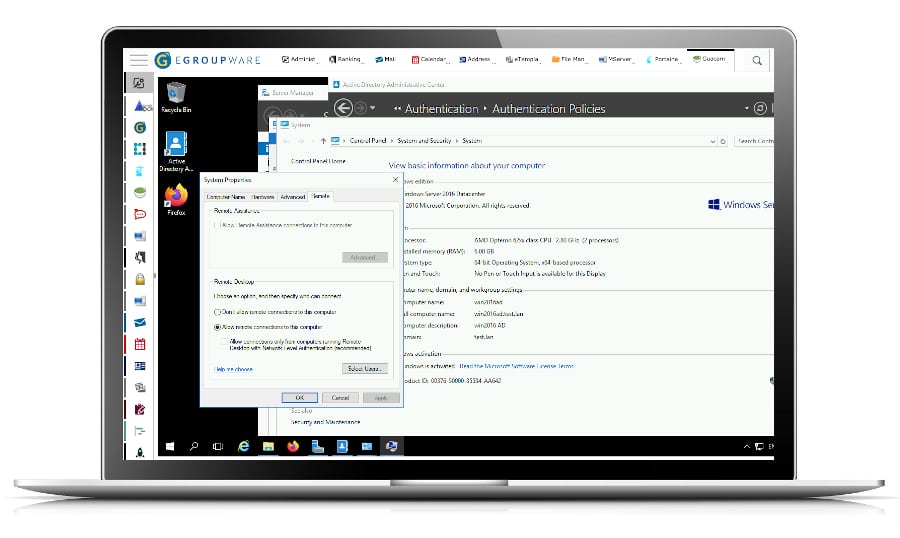 With Guacamole complex applications can be transferred to the browser of weaker PCs and used there. This also eliminates license cost issues for specialized applications on local PCs in the home office. It is therefore more than just screen sharing or remote maintenance as with TeamViewer, but rather full access to desktop PCs as with Citrix Virtual Apps or Parallels RAS. It is up to the administrators to determine which users should have access to which desktops and which security levels, for example two-factor authentication, are required for this.

Jitsi and Guacamole are open source like EGroupware. It is therefore possible for users with their own IT environment to adapt the applications to their own requirements and to extend them if necessary. EGroupware GmbH offers assistance with installation and support. The sponsored Jitsi Server is already preconfigured on all EGroupware installations.
If you have questions about EGroupware, you can always contact our team!
With kind regards from Kaiserslautern
EGroupware GmbH
April 20th, 2020 by
EGroupware
The magazine for professional system and network technology – IT Administrator of Heinemann Verlag GmbH has published an article about working with EGroupware 19.1. The article describes very well the test of the software in comparison to other alternatives on the market:
There is hardly a company without groupware in which the employees are supposed to work together digitally in a meaningful way. However, many companies shy away from entrusting their confidential data to US providers. EGroupware comes from Germany and wants to be a real alternative to Office 365 & Co. for small and large companies alike.IT administrator has tested the new version 19.1.
The complete article from April 2020 in german language can be found here.
August 12th, 2019 by
EGroupware
Most Office Work could be done with one Software Solution
EGroupware is released in Version 19.1
The EGroupware GmbH has released the latest version of its collaboration solution. Among the new features are above all a messenger, functions to fulfill the GDPR, improved security through two-factor authentication and a clearer design of the user interface.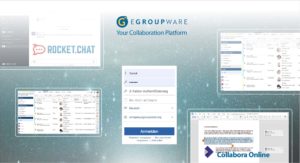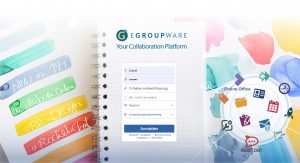 EGroupware 19.1 at a glance and the new login-page of EGroupware 19.1
Kaiserslautern, August 13, 2019 – About one and a half years ago, EGroupware experienced a comprehensive expansion with the integration of the Collabora Office suite. This year's improvements show that the manufacturer and its developer community are responding quickly to current IT issues and challenges.
In the future, it will be possible to embed fundamental measures for compliance with the Basic Data Protection Regulation (GDPR/DSGVO) in EGroupware. In the new "Policy Application" the handling of address books can be regulated. Authorized persons can define which fields have to be filled out and who is allowed to access them. At the same time, all changes concerning access rights can be tracked in the admin tool. All measures are recorded in the new "Admin Documentation" and can therefore be verified. This GDPR/DSGVO tool is a paid feature and only available in the "Enterprise Line" (EPL) of EGroupware.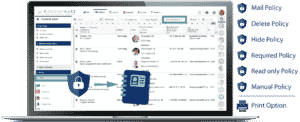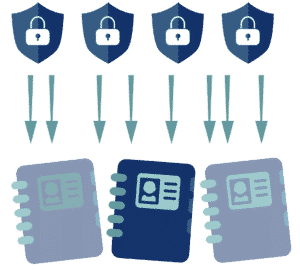 A security measure that is still far too uncommon is now available for EGroupware users: Two-factor authentication (2FA). Users receive a second security key for data traffic, which is only valid for a short time. Administrators can optionally or mandatory enable two-factor authentication within the user group of EGroupware. The EGroupware development schedule includes the option to enforce two-factor authentication via policies for external users only, for EPL customers.
Furthermore, since version 19.1 EGroupware contains the messenger "Rocket.Chat" for all users. Rocket.Chat is, like the collaboration solution itself, open-source and the leading alternative to proprietary chat tools such as Slack or Microsoft Teams etc.. Rocket.chat enables team and video chats, screen transfers and the exchange of files.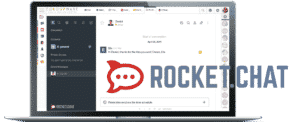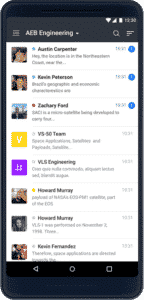 For the integration of Rocket.Chat EGroupware was extended by an OpenID Connect / OAuth2 server. This allows applications that can authenticate via Oauth to be connected to EGroupware. This makes it possible to integrate solutions that do not exist in EGroupware, such as company-specific applications, into the collaboration software.
The innovations of EGroupware 19.1 are most clearly visible in a rather small detail. The EGroupware applications now all have their own color. The different colored icons and page menus run through all functions of an app. This facilitates orientation and overview in the groupware, which is rich in applications. If needed, you can still use a monochrome display. By the way: EGroupware users can now add a photo or graphic to their profile.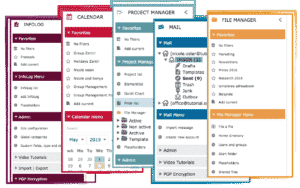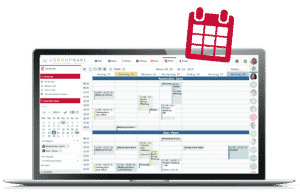 Also well-known applications in EGroupware now include some innovations:
 Documents from Collabora can be opened in the file manager by clicking on the "Collabora Sharing Link" for collaborative editing with a team – also with external partners. Collabora Online makes it possible to send documents by e-mail without any detour through the mail application. Images can be inserted directly into Collabora from the file manager of EGroupware.
In the ticket system comments can be edited and attachments can be added. The chronological order of comments and attachments is maintained.
A glance at the "Status App" on the right-hand side of the window shows which colleague is present at all times. One click is enough to chat with him or write e-mails – without an external chat program.
From version 19.1, the mail app allows you to edit the subject of existing mails. This provides a better overview if mail partners use unclear or misleading subject lines. This also applies to mails with scanned documents or electronically received faxes.
The new editor "TinyMCE" fully supports "Content Security Policy" and thus increases the security of the EGroupware environment.
With the Outlook CalDAV Synchronizer, data from the address book and the calendar can be synchronized alternately between EGroupware and common Outlook versions.
With version 19.1 EGroupware consistently pursues a high standard.
"The integration of Collabora Online Office in version 17.1 brought EGroupware much closer to the vision of offering everything that the normal office user needs on one collaboration platform. With the messenger Rocket.Chat and the possibility to integrate further applications via OAuth, we have taken the next step", explains Ralf Becker. The managing director of EGroupware points out the perspectives:
"The technical conversion to Docker as a platform simplifies the installation and will allow us in the future for example to inform users in real time about changes".
In case you want to have a look at our german webinar about EGroupware 19.1, you'll find it here: >> 19.1 Webinar
If you have any kind of questions concerning EGroupware 19.1, please feel free to contact us.
Best regards
Eva Wertheimer
EGroupware GmbH
February 16th, 2018 by
EGroupware
The Cloud Computing Insider Portal of Vogel IT-Medien GmbH has published an article about working with EGroupware and Collabora. The article describes very well the integration and distribution for processing documents with Collabora. The functions of the CRM systems are also described.
As of version 17.1, the EGroupware business software is also available with an integrated CRM system, including file server and the online office system Collabora. The solution can be booked via the cloud or operated in the company's own data center.
The complete article from 15.02.2018 in german language can be found on the website of the website of Cloud Comuting Insider
January 18th, 2018 by
EGroupware
Dear community, dear EGroupware users and partners,
We are pleased to draw your attention to the following article from the new Linux magazine:
Collaborative working with office suites by Erik Bärwaldt
In the current version of Linux-Magazin (2018/02) Mr. Bärwaldt analysis various collaborative software solutions.
This is about modern communication and teamwork, which new technical achievements can make working easier and why do some organisations still work as they did in the 90s?
Several providers of office suites with collaboration features are now competing for customers in order to ensure that all the wheels are interlocked when exchanging office documents within the company. Cloud or on-premise solutions are designed to make teamwork easier, so Mr. Bärwaldt
Read for yourself what the editors write about EGroupware :
http://www.linux-magazin.de/ausgaben/2018/02/bitparade-2/
November 15th, 2017 by
EGroupware
Pro Linux published an article about the new features and how Collabora Online Office is integrated into EGroupware:
EGroupware GmbH has released a new version 17.1 of its groupware. The open source solution enables collaborative editing of documents within Collabora, variable customization of the appearance, an additional option for encryption and new functionalities in various sub-applications.
The complete article from the 15th of November 2017 in german language can be found on the website of the website of Pro Linux.
July 5th, 2016 by
EGroupware
The Datacenter Insider Portal of Vogel IT-Medien GmbH has published an article about Open Source and collaborations on the EGroupware project. The article describes very well the new features of EGroupware version 16.1 and how users can contribute to the development:
The new version 16.1 completes the reprogramming of EGroupware. The user interface is better adapted to different device formats. From now on, it is not only the developers who decide on future goals, but also the users who are involved.
The complete article from the 05th of July 2016 in german language can be found on the website of the website of Datacenter Insider
July 4th, 2016 by
EGroupware
The ix magazine for professional information technology has published an article about the new EGroupware version. The article describes very well the possibilities of working with the mobile template and the reworked user interface. The possibilities of encryption are also described.
Version 16.1 of the open source collaboration software EGroupware is available for download. The software introduces a new interface for mobile devices and end-to-end encryption with PGP. In the cloud version, it can be tested for 30 days.
The complete article in german language from the 07th of Aril 2016 can be found on the website of the website of Heise
September 18th, 2015 by
EGroupware
The ix magazine for professional information technology has published an article about the availability of EGroupware as Software as a Service. The article describes very well the possibilities and easy you can get access to the software:
"A customer does not have to install the software, the Saas package runs pre-installed on virtualized servers in German data centers."
The complete article in german language from the 18th of September 2015 can be found on the website of the website of Heise