Infolog module
From a simple task creation (ToDo list) up to a complex task management incl. subtasks and the integration into the project management EGroupware offers you many possibilities to make your teamwork as efficient as possible.
Compared to most task systems, the Infolog module of the EGroupware contains many more possibilities to adapt it to your individual needs.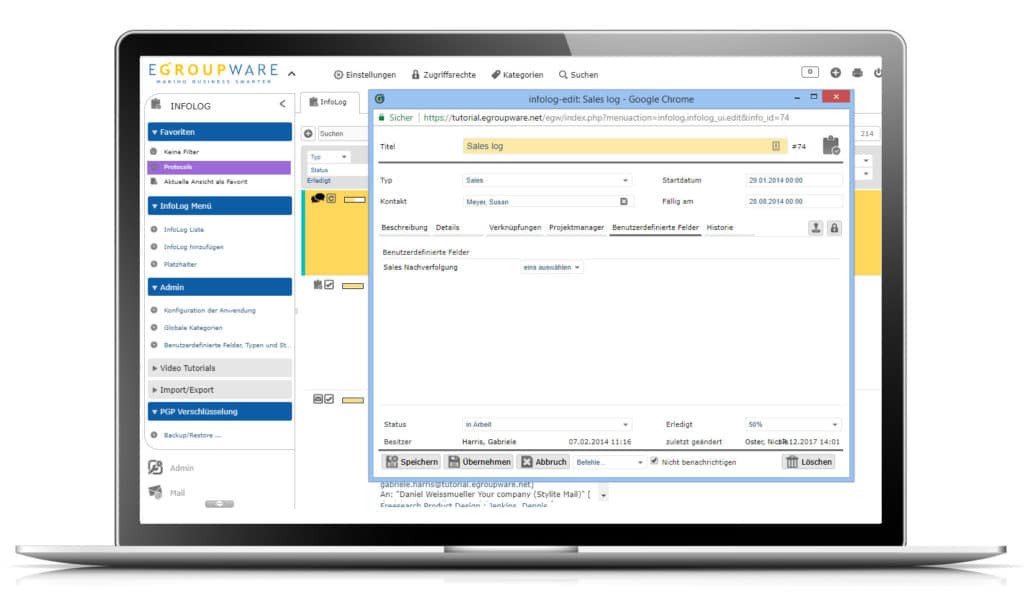 Custom task types and data fields
In order to optimize your organization's processes, it is important to access your data quickly and store it in a structured way. Standard software is available for many business tasks, but not all tasks can be seamlessly integrated into application-specific programs. With EGroupware you can define your own processes/Infologs and thus bundle all company tasks in one software.
Because of the adaptability, you can easily implement almost any business process or task and design it in such a way that your team immediately recognizes the added value in efficient design. You can define any number of Infolog types and fields that you need for your own tasks. Of course, you can also attach files to these tasks to store information in the right context.
Access rights and filters
The Infolog task module offers you a variety of configuration and setting options. You can define the permissions for who can read, edit, delegate or delete a task.
The history of each task shows who has changed which entry and how. This provides you with complete documentation including deletion protection in case a team member has accidentally deleted the task.
In order to get a comprehensive overview of all important tasks there are various filter functions according to priority, competence and self-defined criteria. For even faster access EGroupware has a favorite concept, where individual search and filter criteria are stored.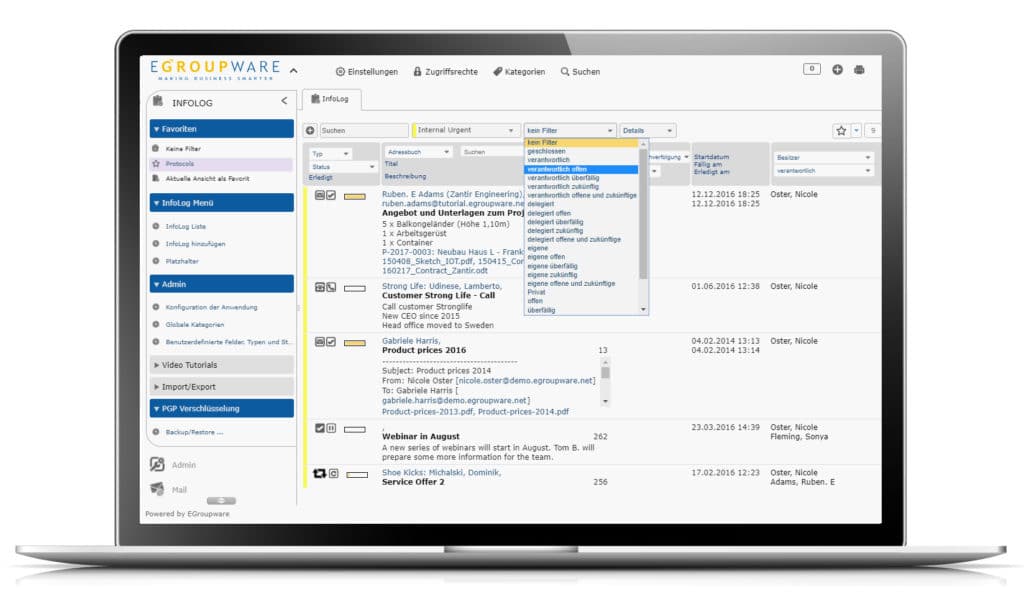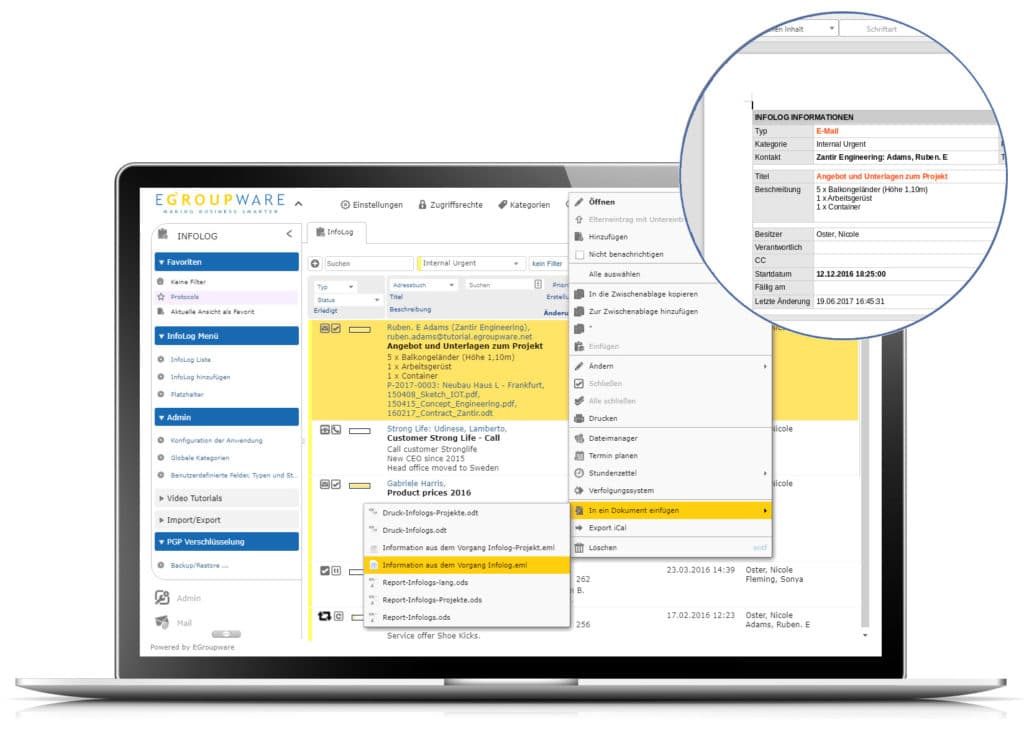 Notification and reporting
If you involve external participants in your task management, they may only be allowed to read certain information, but not change it. However, it is important to you that your participants are constantly informed about the current status of the tasks automatically.
The notification system has been developed for this purpose, so that all parties involved are always informed about the changes of the tasks and proactively alerts them to new tasks or informs them if the due dates of their delegated tasks are not met.
You can also create your own reports and edit them in Office applications.
Synchronization
Are your employees often on the road for customers? With the mobile view of EGroupware, you can receive or delegate your tasks conveniently on the go with your smartphone or tablet. To make the tasks available without Internet access, they can be synchronized with the task module of smartphones.
As an import/export interface, an exchange in CSV format is possible, which can also import time-controlled data from an external system such as a merchandise management system or service management tool. Additionally, the data can be synchronized via CalDAV or ActiveSync.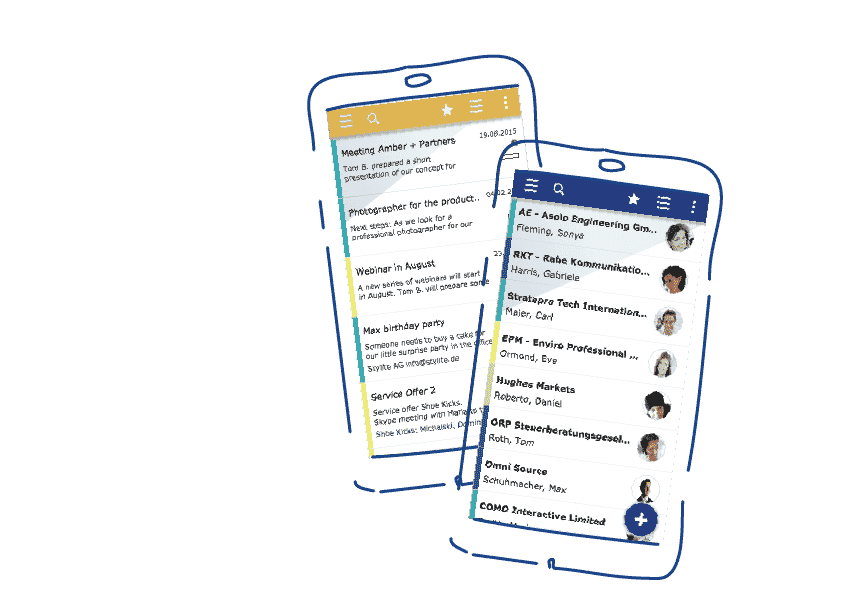 Start with EGroupware now!
EGroupware is available as a cloud solution in our German data center or as an installation package for Linux environments on the local network.
Individual server implementations for Linux environments are available on base of EGroupware's installation packages. Installation instructions for UCS can be found in the Univention section.
With the Infolog of EGroupware you offer your team an optimal task management tool. Try EGroupware's  Infolog, group calendar and project management modules now for free!