For universities, schools and training institutes
Simple integration into the existing IT infrastructure is extremely important, especially for schools, educational institutions and research facilities.

The big advantage of EGroupware is the easy integration into existing systems like LDAP or Active Directory. This makes administration easier, as the existing rights management can be built on. Alternatively, EGroupware can also be used in the German cloud. Enjoy the advantages of EGroupware, which does not require installation on a PC. All you need is a browser to access your mails, calendar, tasks and resource management to have. EGroupware offers you an extensive possibility of appointment and file management.
NEW: Integration of video-supported learning/teaching with work orders and comments in the video display. We recommend the recording of our german webinar on "smallPART – video-supported learning" on 14 May 2020.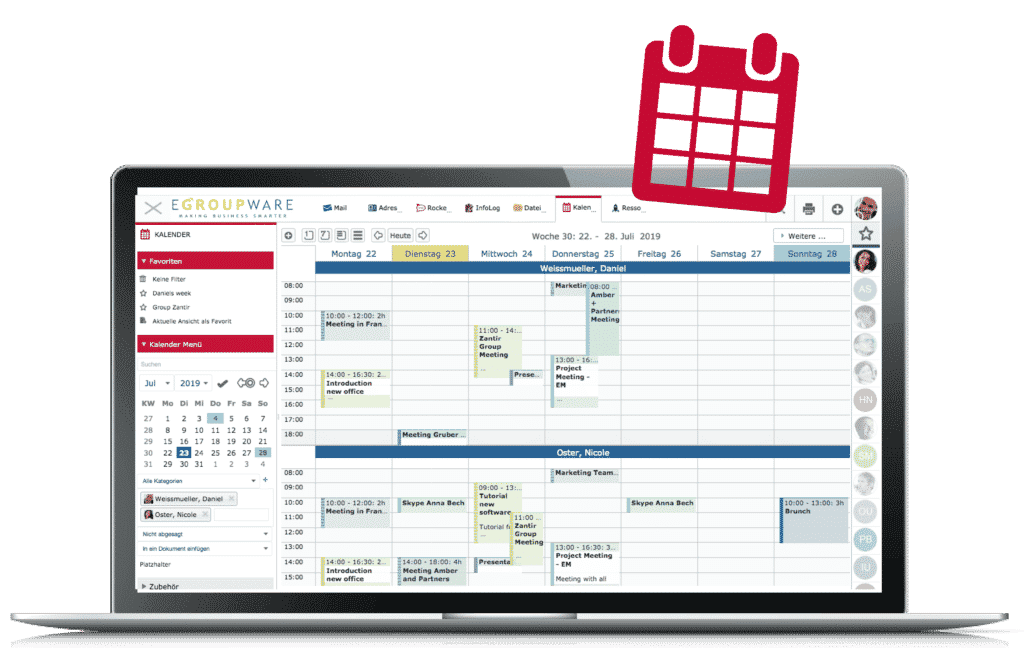 Planning rooms, vehicles and equipment rental
With the resource module of EGroupware you can easily plan the rental of laboratory equipment, vehicles or even meeting rooms.
Many universities can use EGroupware to provide their students with an electronic allocation plan of resources. This simplifies the organisation and makes complicated notices or outdated lists unnecessary. Students or lecturers can see directly when certain rooms and equipment are booked or available.
This simplifies administration and organization at educational institutions. If desired and approved, students or pupils can request resources directly or book them themselves. Depending on the workflow, final approval by a person responsible for these resources is also possible.
File exchange in working groups and projects
– Distribution of working materials
EGroupware as file manager for teachers and students
A workgroup typically uses dozens, often hundreds, of documents for each project – from text documents, spreadsheets, presentations, images, and PDF files to video and industry-specific document formats.
EGroupware manages all these documents transparently via the integrated file manager. Each member of your workgroup has always access to the latest data. This eliminates the time-consuming sending of data by e-mail and sources of error in data organisation (duplicates, working with outdated files) can be minimised.
You can also give externals access to these files via a sharing link: reading, writing or opening with Collabora Online.
Especially in times of Corona the distribution of working materials and the collection of homework was a big issue. also this can be solved easily with EGroupware.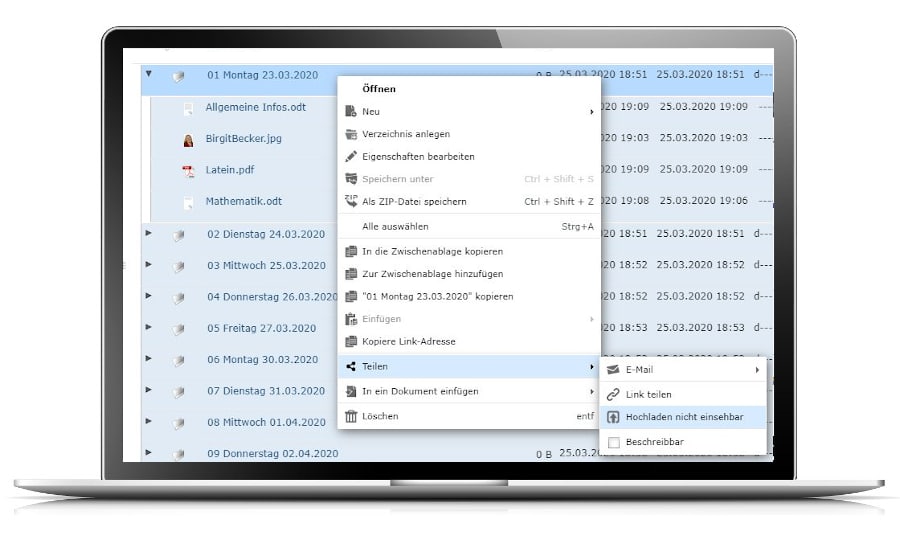 Digitalisation of the organisation in schools
See in this short video how EGroupware can help you with the organisation in schools and educational institutions:
Providing of communication tools such as e-mail, calendar and address management
personal calendar and calendar for the relevant classes
Time management and time recording of student assistants
Homework Planning
Absence calendar, substitution planning
networking of teachers and pupils or students
Provision of learning material
NEW: Video supported learning/teaching with work orders and comments in the video display
Webinar recording schools in the home office
View the functions of EGroupware for the current situation in the home office very easily in the webinar recording. There we show live how it works in practice. In addition, questions about handling and technical possibilities will be answered.
If you have further questions about the use or the functionality of EGroupware, please contact us. We look forward to hearing from you.
Start now with EGroupware
EGroupware is available as cloud solution in our German data center or as installation package for Linux environments in the local network.
Further information on installation variants can be found in support and download section. Installation instructions for UCS can be found in Univention.
With the integrated Jitsi video conferences of the groupware you offer your team an optimal communication tool. Test the home office functionalities as well as the EGroupware modules for e-mails, group calendars, project management now for free!