Transforming Chaos to Convenience: Elsental Youth Farm's Journey with EGroupware's InfoLog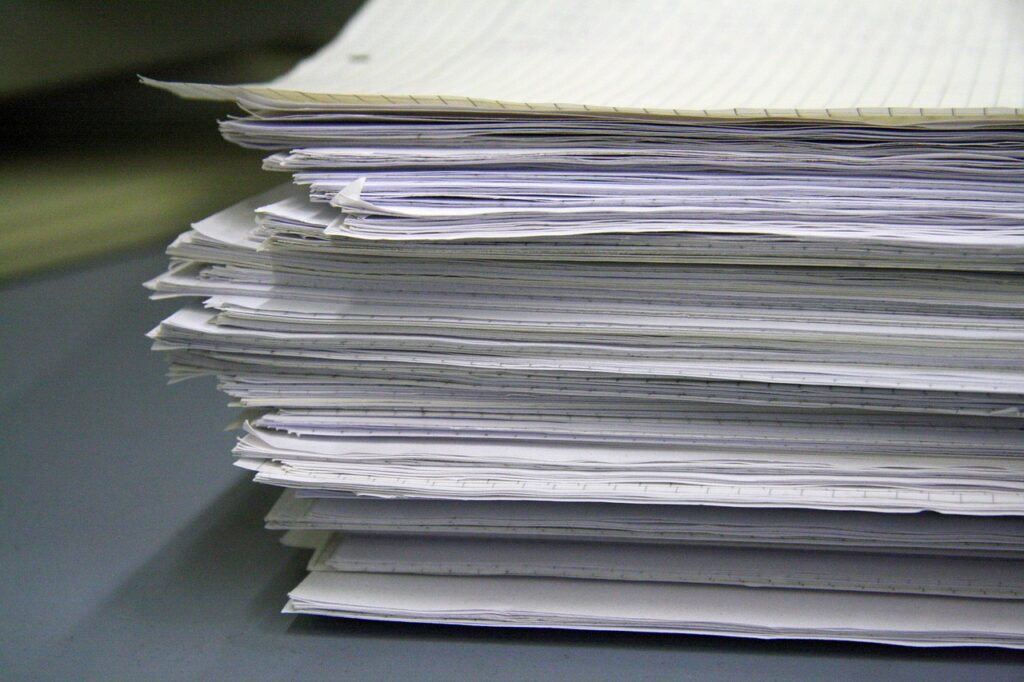 The Elsental Youth Farm near Stuttgart, Germany, relies on EGroupware — not just for accounting, but also for booking of leisure activities. About two years ago, they implemented a registration system with EGroupware. Parents can now sign up their children for lunch breaks, holiday camps or riding lessons.
For more than five years, EGroupware has been an invaluable assistant in the office of the Jugendfarm Elsental, especially for accounting, managing contacts and appointments. About four years ago, the Youth Farm team decided to get EGroupware more involved and to use it for other tasks as well. As a first step, they made it possible to register by email, and for the past two years, parents have been able to register as EGroupware users. They can now book lunch, riding lessons or or holiday camps for their children directly in the groupware. This has significantly simplified the booking process.
We spoke to Steffi Hudoffsky, administrative assistant in the farm office, and Christoph Boehm, the IT manager at the Youth Farm. They told us how their solution works and how the switch to the fully automated registration system worked out.
The Power of Open Source Software in Administration
The Elsental Youth Farm offers a wide range of activities: horse riding, lunch with and without homework supervision, various holiday programs — there are things going on at the farm all year round. As of January 2023, there are approximately 430 farm children; a total of between 600 and 700 children take part in activities at the Youth Farm throughout the year.
When parents sign up their children for one or more activities in Elsental, they submit not only the name and age of their kids, but also important information about food intolerances, allergies, and emergency contacts. The team manages all of this data in EGroupware as well as addresses of association members, cooperation partners, authorities, schools, etc. Christoph Boehm, who takes care of IT at Elsental, has known and used EGroupware since 2006. "Wherever possible, we use open source software at the farm," he says. "That includes EGroupware, which is at the heart of our IT."
His colleague Steffi Hudoffsky from the farm office takes care of data maintenance in EGroupware together with another part-time employee in administration. "Until two years ago, this involved a lot of manual work," she reports. "During registration days, people were already queuing up from 8 in the morning so that they could hand in their written notes at 2pm. We then sorted the paperwork and transferred the data into EGroupware by hand."
Using Email to simplify Tasks
A new solution was required — so why not extend the existing one? First, the farm team took care of the registration procedure. "This endless paperwork was inconvenient for everyone involved," says Steffi Hudoffsky. "Starting in 2019, parents were therefore able to register their children by email." All information on parents, their children, and the farm activities they booked were initially stored in the EGroupware address book. However, the staff quickly realized that this wasn't such a great idea.
"The address book was totally bloated," sighs Steffi Hudoffsky. "We recorded all the information in the contact field, including whether a child came early or late to an activity, whether the family had a bonus card, and so on. We quickly realized that we couldn't map it that way." In January 2021, therefore, a fundamental rebuild began, which our EGroupware support helped with. Since then, the InfoLog has recorded the activities booked, the names and dates of birth of the children, the parents' declarations of consent for data storage and photos, any illnesses, allergies or intolerances, and more.
EGroupware's InfoLog: The Game-Changer for Bookings
"We also redesigned the entire registration process so that parents can register themselves as users with our EGroupware instance," Christoph Boehm tells us. "For us, it's a huge relief that parents now make their own bookings for events and activities their children take part in."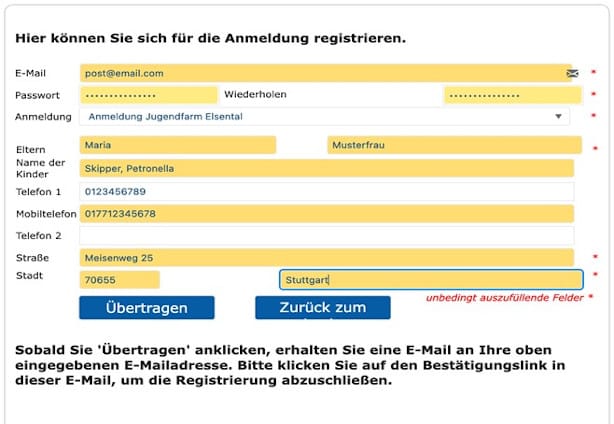 After about two months, the makeover was done and parents could book the first activities for the Easter holidays. During the year, the remaining activities were also added to the InfoLog. The farm team has published detailed instructions on how to register and log in (in German). After creating the user account and logging into EGroupware, parents automatically end up in the InfoLog — they have no access to other EGroupware modules.
In the InfoLog, parents find buttons at the top for booking lunch, riding lessons, holiday programs, core time for children of elementary school age, and Waldheim holidays. The individual dialogs offer input masks and checkboxes on several tabs to make the booking process easier. In addition, parents can easily copy existing entries in the InfoLog and thus register several children without much effort.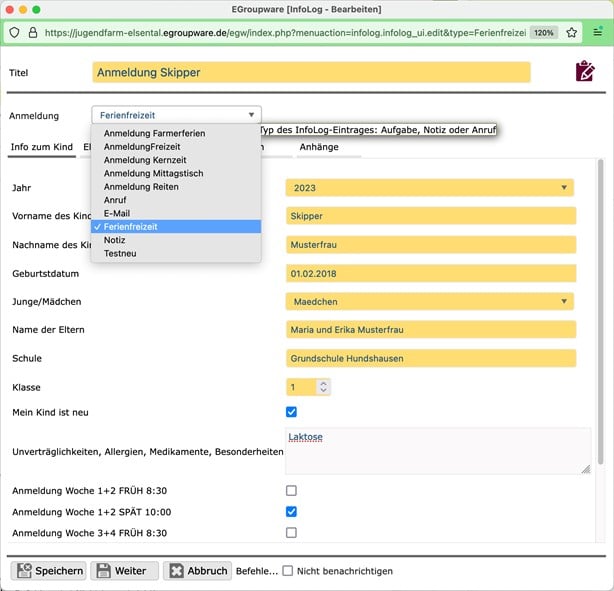 After the parents have entered everything and clicked on Save, the request is processed further by the farm team. For Steffi Hudoffsky and her colleague in the farm office, registration confirmations, invoices, etc. can now be generated and sent with just a few clicks. "I'm glad we no longer have to maintain Excel lists by hand and send out forms," she says.
The EGroupware support team continues to assist the farm. Some activities remain the same every year, other Youth Farm offerings require changes to the InfoLog dialogs, which EGroupware is happy to help with.
DSGVO-compliant and secure
The Youth Farm uses EGroupware as a hosted solution: in our EGroupware cloud, all data is stored on German servers and the access is HTTPS encrypted. "This is really an all-inclusive carefree package for a moderate price," says Christoph Boehm. "EGroupware supports different account types and user roles. For example, we have to make sure that parents who book holiday camp time don't get access to address books of the kindergarten or other data. Thanks to EGroupware's rights management for users and groups, that's no problem."
Steffi Hudoffsky is also pleased. "Admittedly, compared to other registration pages, our solution is quite complex, but there are only a few parents who need help. Two months from the idea to the final implementation — that's impressive, and the EGroupware support has been really helpful. No waiting on hold, just quick replies when we need help."
Thanks to EGroupware, the Elsental Youth Farm has significantly simplified its booking process for many activities. The farm team and the parents appreciate the digital registration without long waiting times and endless piles of paperwork. Do you also want to save time and resources? Feel free to contact us and test EGroupware as an Online Demo or in our free 30-day trial version.