We're approaching the release of EGroupware Version 17.1. Therefore, we're happy to announce, that "Collabora Online" will be available within EGroupware starting with Version 17.1.
Furthermore, we announce a partnership with Collabora Productivity, the driving force behind putting LibreOffice in the Cloud. This partnership enables the integration of Collabora Online, the cloud version of LibreOffice into the online groupware EGroupware – your digital office.
The new integration allows EGroupware users to open and edit various office documents, such as text documents, spreadsheets or presentations within EGroupware. Specifically the option to edit different file formats together in real-time will exceed the existing functionalities by far.
The Collabora Online integration will be available for cloud packages as well as for on premise installations.
On Thursday, 05th of October, we'll offer a free webinar about Collabora Online Office in EGroupware.
The webinar will mainly take place in German, but we'll be happy to translate and answer in English. Please don't hesitate to participate and ask any kind of questions – also in English.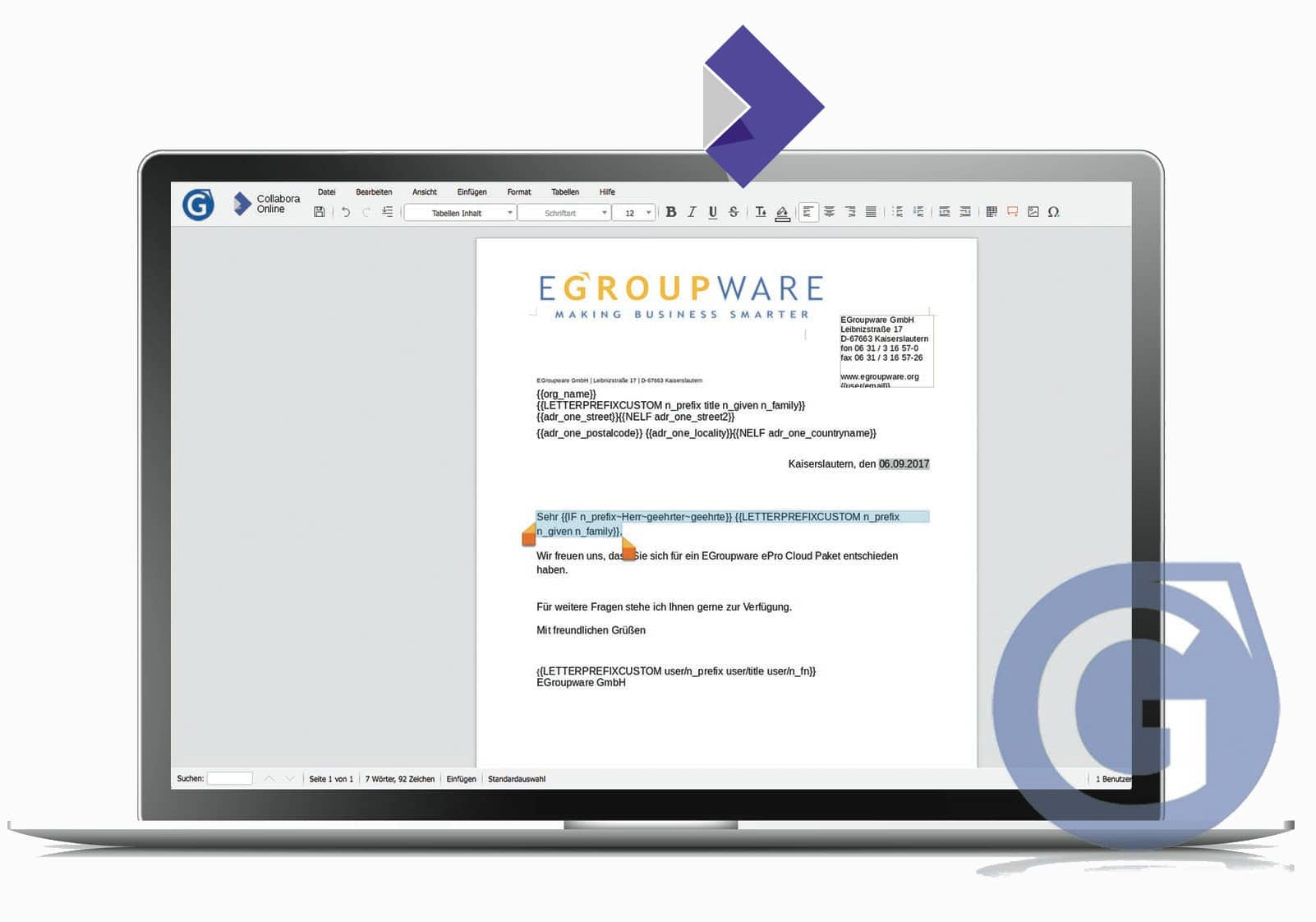 Topic: Collabora Online in EGroupware
Date: Thursday, 5th of October 2017
Time: 4:00 pm (CET)

About Collabora Productivity:
Collabora Productivity is the driving force behind putting LibreOffice in the Cloud, providing a range of products and consulting to enterprise and government. Powered by the largest team of certified LibreOffice engineers in the world, it is a leading contributor to the LibreOffice codebase and community. Collabora Office for Desktop and Collabora Online provide a business-hardened office suite with long-term, multi-platform support. Collabora Productivity is a division of Collabora, the global software consultancy dedicated to providing the benefits of Open Source to the commercial world, specialising in mobile, automotive and consumer electronics industries. For more information, visit www.collaboraoffice.com or follow @CollaboraOffice on Twitter.
Testing Phase Collabora Online in EGroupware (Collaborative Editing):
If you'd like to test Collabora Online in EGroupware prior to the release of EGroupware Version 17.1, feel free to contact us. We'd be happy to activate a testing instance for you. The testing phase will also be one of the webinar subjects. Furthermore, you have the option to catch a glimpse of the new EGroupware 17.1 functionalities in our demo. We'll update the demo to Version 17.1 soon. After the webinar, we'll also integrate Collabora Online there.
In case you have further questions, feel free to contact our EGroupware support team. For more information, visit EGroupware on Facebook and find news about EGroupware, our webinars and tutorials and general Open Source topics.
Best regards
Your EGroupware Team