Collabora Online Integration
Edit Texts or Tables together in Real Time – integrated in EGroupware!
You collect your data in EGroupware, use templates with placeholders and insert the content into your documents. Further processing or saving as PDF takes place directly in Collabora Online.
The documents are processed exclusively in the browser (Chrome or Firefox). It is no longer necessary to install a local office program.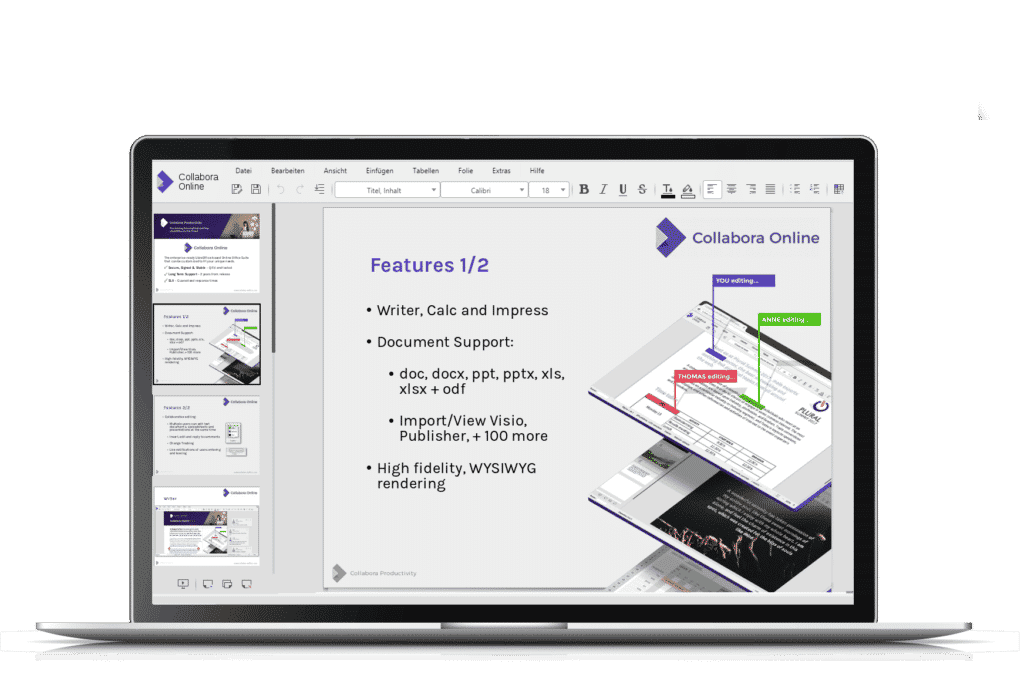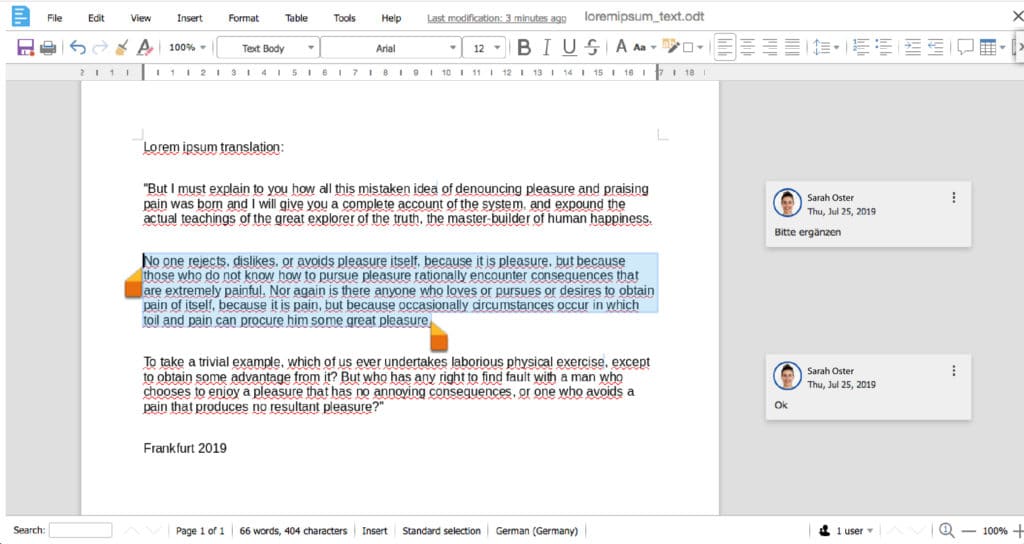 About Collabora Online
Collabora Online is the powerful LibreOffice-based online enterprise office suite with collaborative editing functionality.
This browser based online office suite supports all major document types as text documents, spreadsheet and presentation files. All you need is a modern browser like Chrome or Firefox.
Real-Time Editing
EGroupware users can work with different devices on the same document in real-time. Collabora Online supports different document types including DOC, DOCX, ODT, PPT, PPTX, XLS, XLSX, ODS and many more.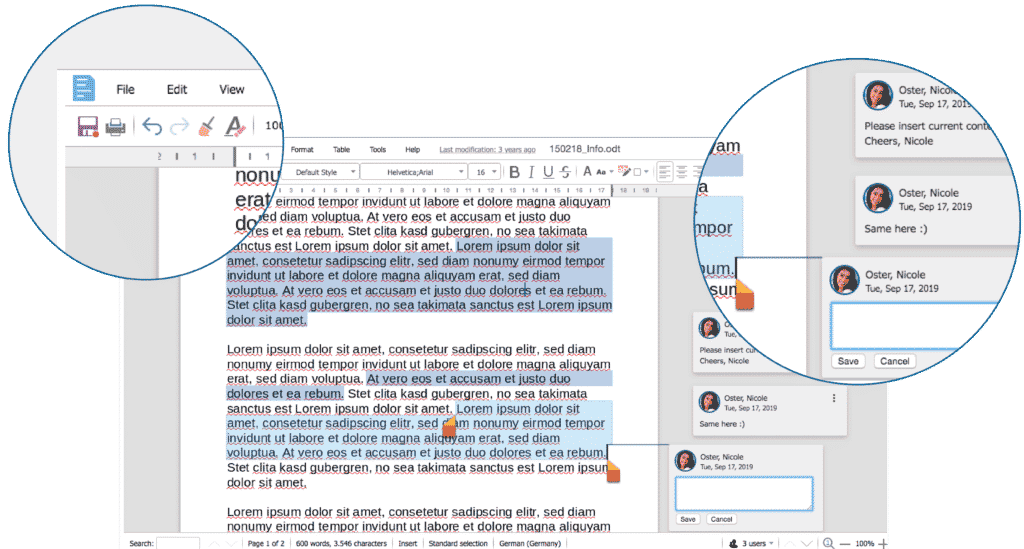 Collaborative Editing: What's that?
Getting collaborative editing to work is really easy. Start editing documents with your colleagues or partners in real-time!
Write to-do-lists or customer informations together.
Write with your colleagues, fellow students or friends, all working on the same document at the same time.
No more sending your documents back and forth via email.
Prices and how it works
Collabora license is based on named users as long as you are not using the CODE version. After the end of the collabora test phase using our collaboar-Server the following regulation applies:
EGroupware users need Collabora licenses for all users who want to use the new solution.
The costs for using our Collabora server for hosting customers are the pure license costs, which we pass on to Collabora.
For on-premisis installations (CE or EPL) using our (and no own) Collabora server, higher costs for operation will be charged.
We offer two different concepts for the operation of a Collabora Office Server.  If you want to run your own Collabora server, it is sufficient to purchase a Collabora software license. You will have to pay for the installation and the server operating costs yourself. Alternatively, we offer a Collabora server in the EGroupware Cloud. You can connect your existing EGroupware EPL or CE with our Collabora Server in the EGroupware Cloud.
If you are already a customer of EGroupware Hosting and need Collabora licenses, you can either buy them in our shop or contact us. We will find the right solution for you.
Price per license for Collabora Server (EGroupware on-premise installation EPL or CE, EGroupware hosting customers):
17,00 Euro/year/user plus VAT for Business users
4,25 Euro/year/user plus VAT for NGO, schools, non-profit organisations
Price for Collabora license in the Collabora Cloud for users of an EGroupware on-premise installation:
4,95 Euro/month/user plus VAT for Business users
2,95 Euro/month/user plus VAT for non-profit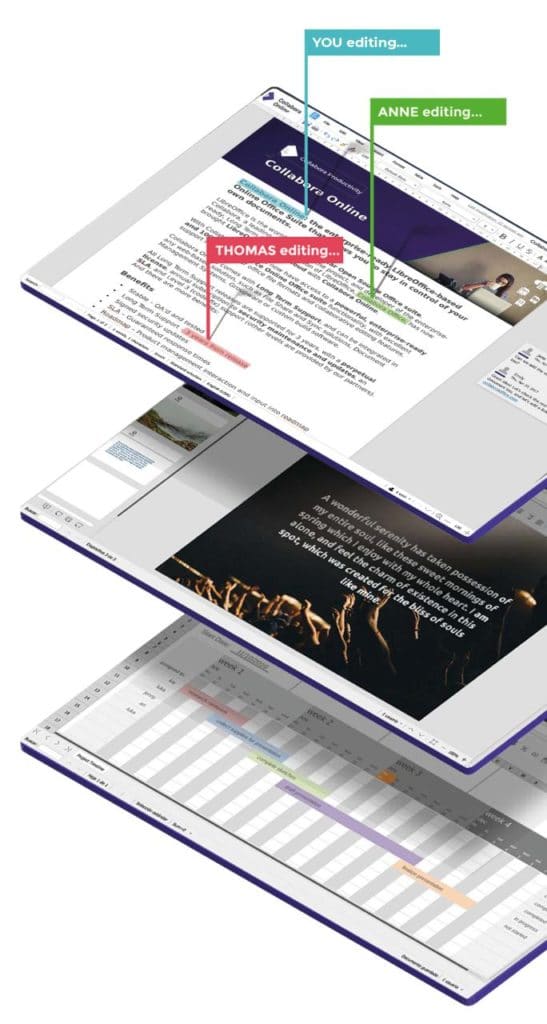 Collabora for On-Premises Installations
For EPL customers there is now a Collabora package available to be installed on your own server. The packages are only available for the following two distributions and webservers. They can be installed like other EGroupware packages:
Ubuntu 16.04 with nginx or Apache: apt install egroupware-collabora-key
CentOS 7 with Apache: yum install egroupware-collabora-key
Or use our new Ubuntu 16.04 nginx appliance with preinstalled Collabora
It will install two containers "collabora-key" and "collabora-watchtower". The watchtower will check for updates at 4:00 am daily and install them, if a new Collabora version is available.
After the installation you need to change the Collabora server to use the same URL as your EGroupware (under Admin >> Applications Collabora: Server without a path and trailing slash e.g. https://domain.com)!
After applying the changes, it will show the amount of supported document types. For a secure connection via https, Collabora requires official certificates either created with LetsEncrypt or bought from an official certification centre. It will not work with self signed certificates. Additionally, the configuration requires that EGroupware internally and externally uses the same URLs to not run into configuration problems.
You can copy your licence code directly into EGroupware.