How do video conferences work with Jitsi?
By integrating the open source solution Jitsi into EGroupware, you can easily set up video conferences or plan them with several participants.
You can either install your own Jitsi server or register any public Jitsi server.
By default EGroupware uses the Jitsi server of the Jitsi project meet.jit.si for own installations. In the EGroupware Cloud we run our own jitsi server, which is preset for all instances. With this service we contribute to the management of the Corona crisis and would like to help many people in their home office to make their daily work easier.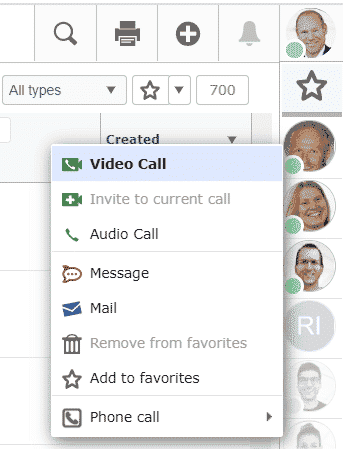 Start calls directly from EGroupware
With the integrated status bar you can immediately see who is currently "online" and can immediately interact with colleagues.
The advantage for you as an EGroupware user is that you can also see from your home office whether your colleague is currently available.
With a right-click you simply send him a message or start a video call via the Jitsi Server.
Schedule a videoconference or call directly
From the EGroupware address book you can start a call or schedule a conference directly with a "right click". It does not matter if the participant is a user of EGroupware or an external contact. Even if you only know the e-mail address of the participant, it is enough to invite him to the video call.
This makes it easier for you to plan and conduct conferences. No further tool is required. Since the data connection is encrypted at all times and the server is located in Germany, there are no data protection legal concerns. This may be different at present when using foreign service providers, where sometimes data protection guidelines are not easily visible or sometimes the connection is not encrypted. We will be happy to assist you with questions about video conferencing.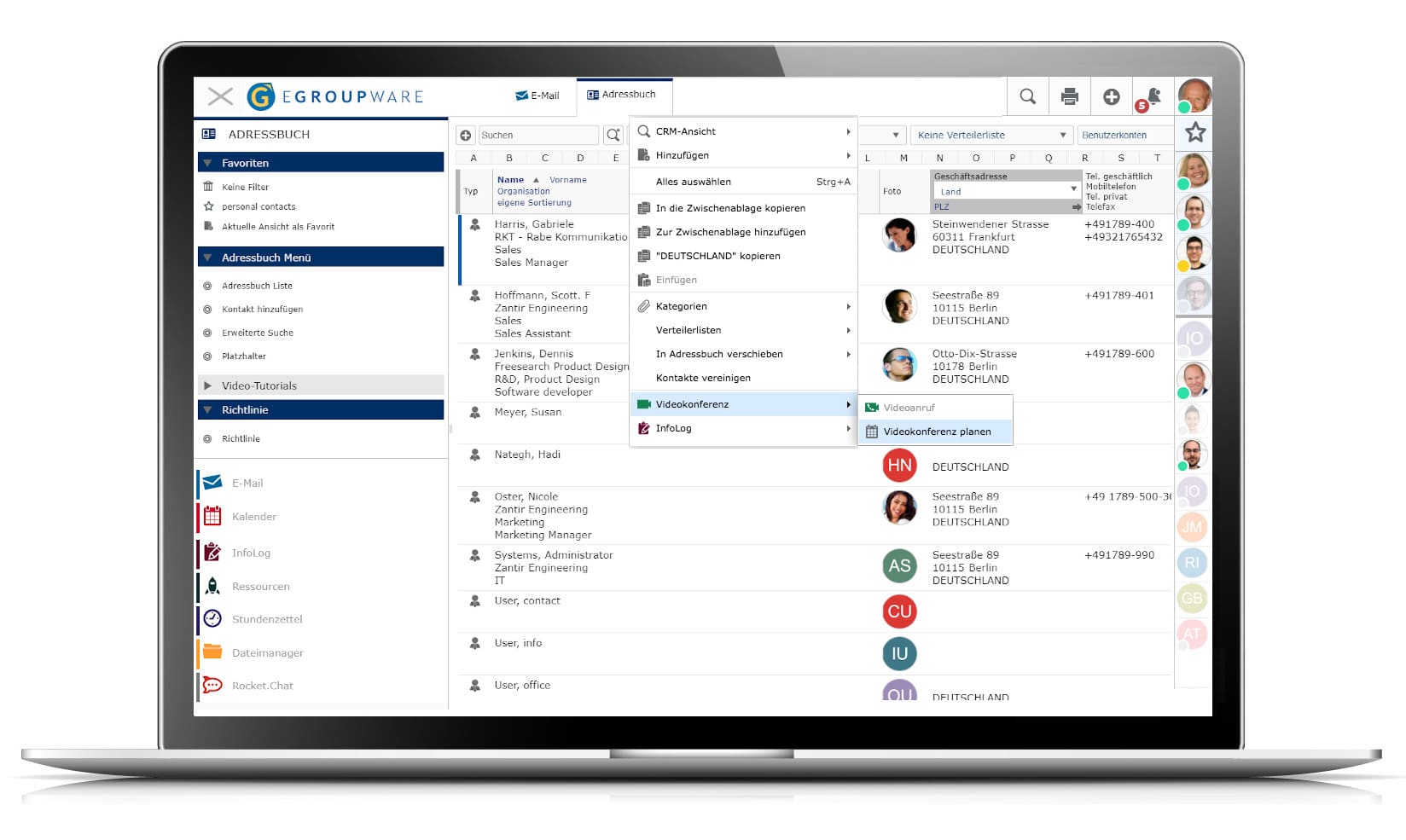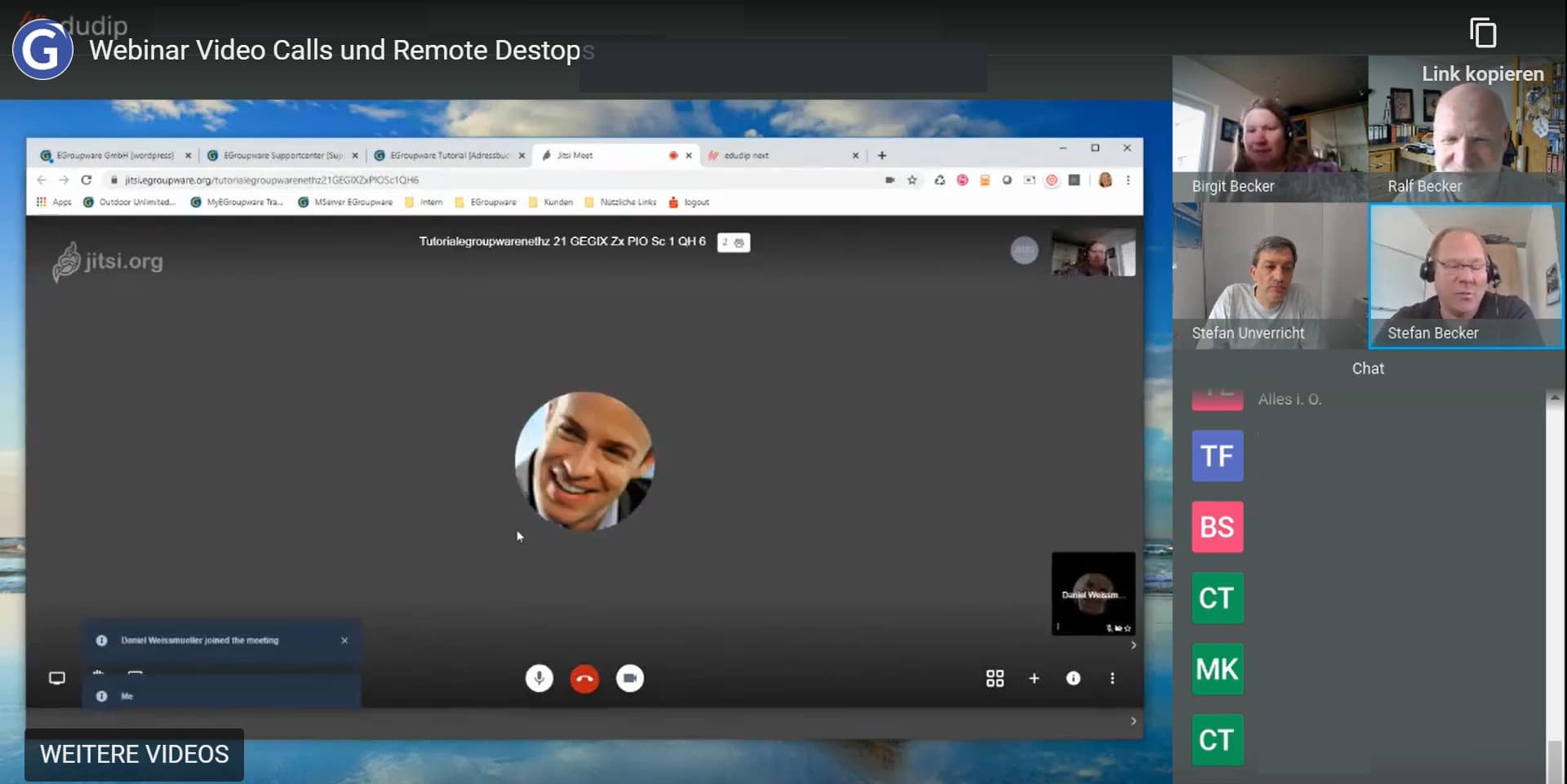 Webinar recording for video conferencing
See the features of Jitsi in EGroupware easily in the webinar recording. There we show live how you can plan or set up video calls. In addition, questions about handling and technical possibilities will be answered.
If you have further questions about the use or the functionality of EGroupware, please contact us. We look forward to hearing from you.
Sorry, the webinar is only in German language yet, but there will be a english webinar coming in the next weeks.
Start with EGroupware now!
EGroupware is available as a cloud solution in our German data center or as an installation package for Linux environments on the local network.
Individual server implementations for Linux environments are available on base of EGroupware's installation packages. Installation instructions for UCS can be found in the Univention section.
With the Jitsi videoconference integration of the groupware you offer your team an optimal communication tool. Try EGroupware's  Home-Office features as well as email, group calendar and project management modules now for free!