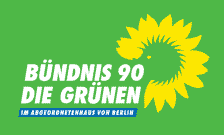 We have been working with EGroupware for over 5 years (2009) and have currently integrated approx. 90 users – and the trend is rising.
EGroupware is now an indispensable medium in our faction work. Especially the various possibilities of mobile use, the data stored under EGroupware, allows a faster flow of information and thus guarantees increased communication speeds.
Our group has also used the trustful cooperation in recent years to initiate functional extensions and modifications of the software. We are very satisfied with the support we receive, especially as the users' view of the content and the technical perspective of the development are always transformed in an excellent way.
The parliamentary group Bündnis 90/Die Grünen is the largest opposition faction with 29 members of parliament, in the Berlin House of Representatives (Berliner Landtag). In parliament, it is committed to an ecological, social city.
http://www.gruene-fraktion-berlin.de
Olaf W. Reimann, Parliamentary Group Bündnis 90/Die Grünen, Berlin